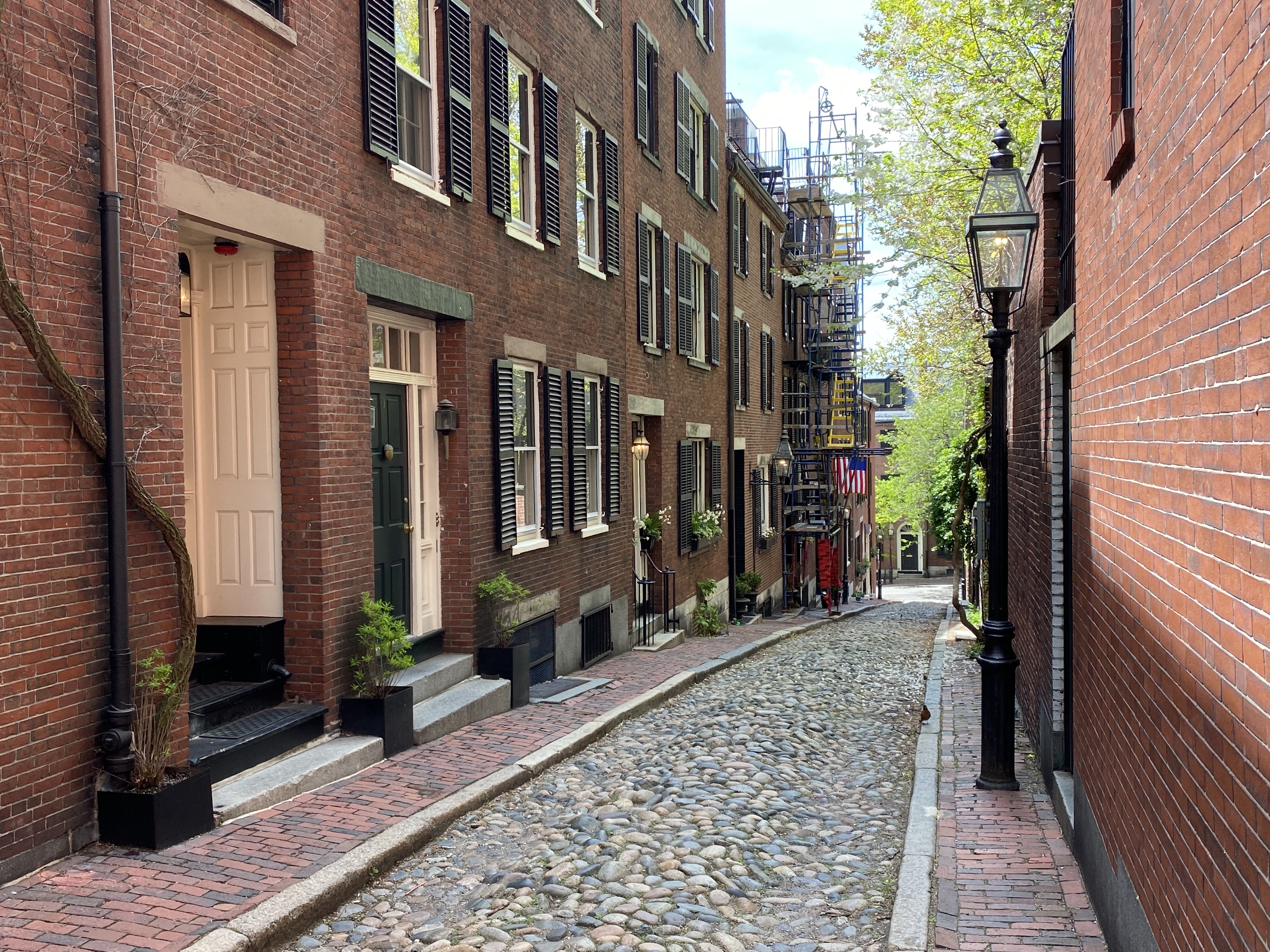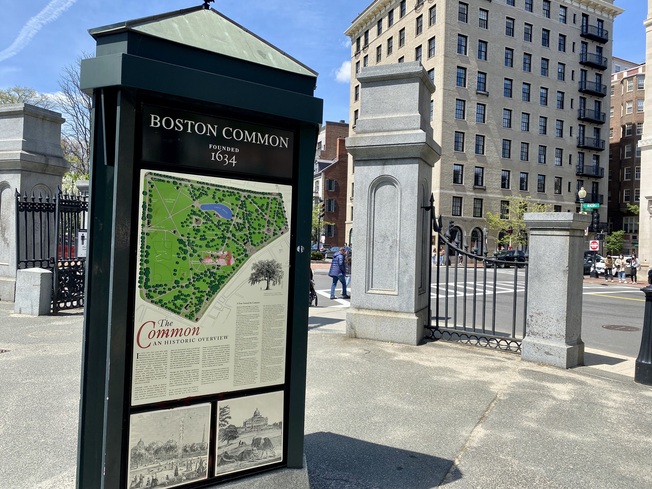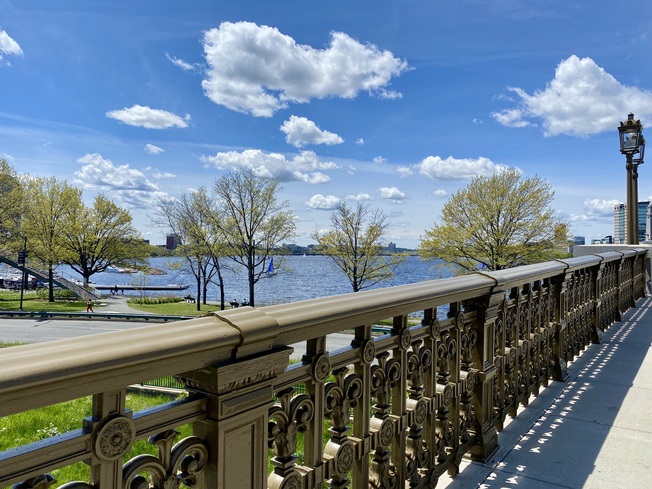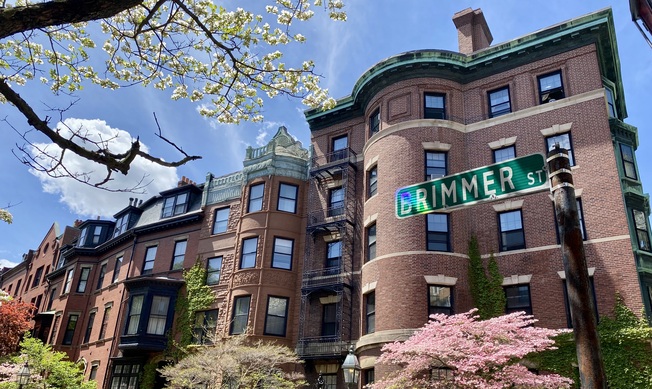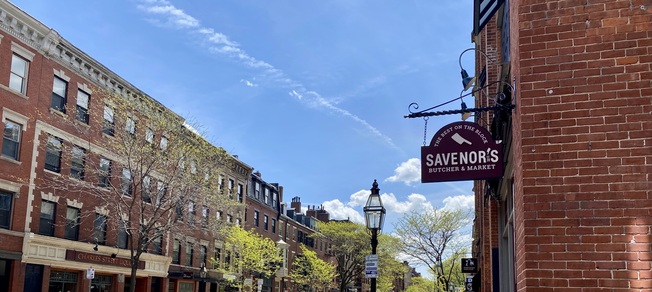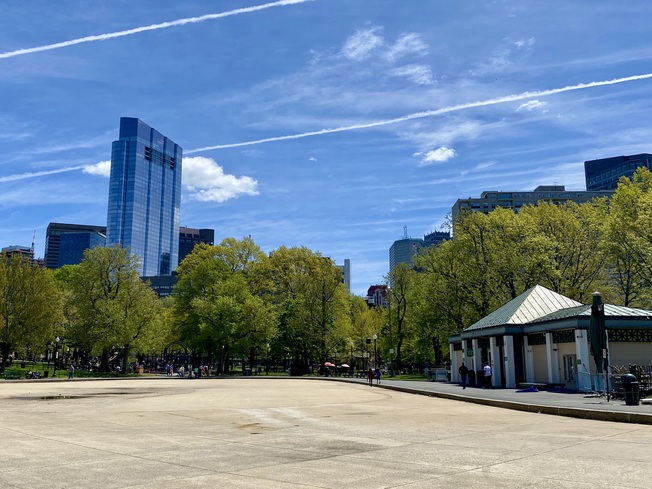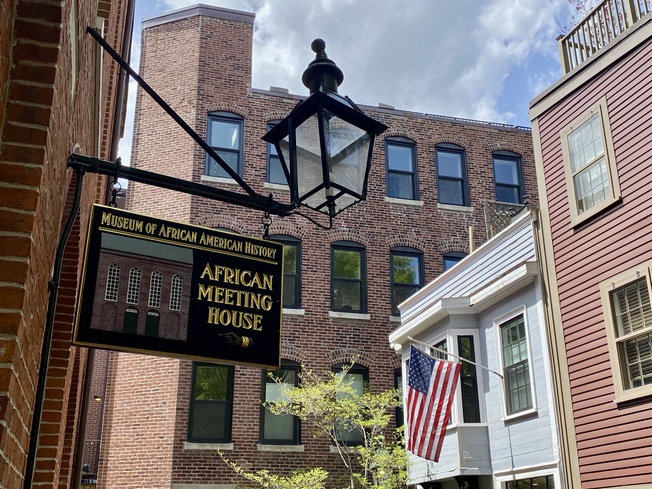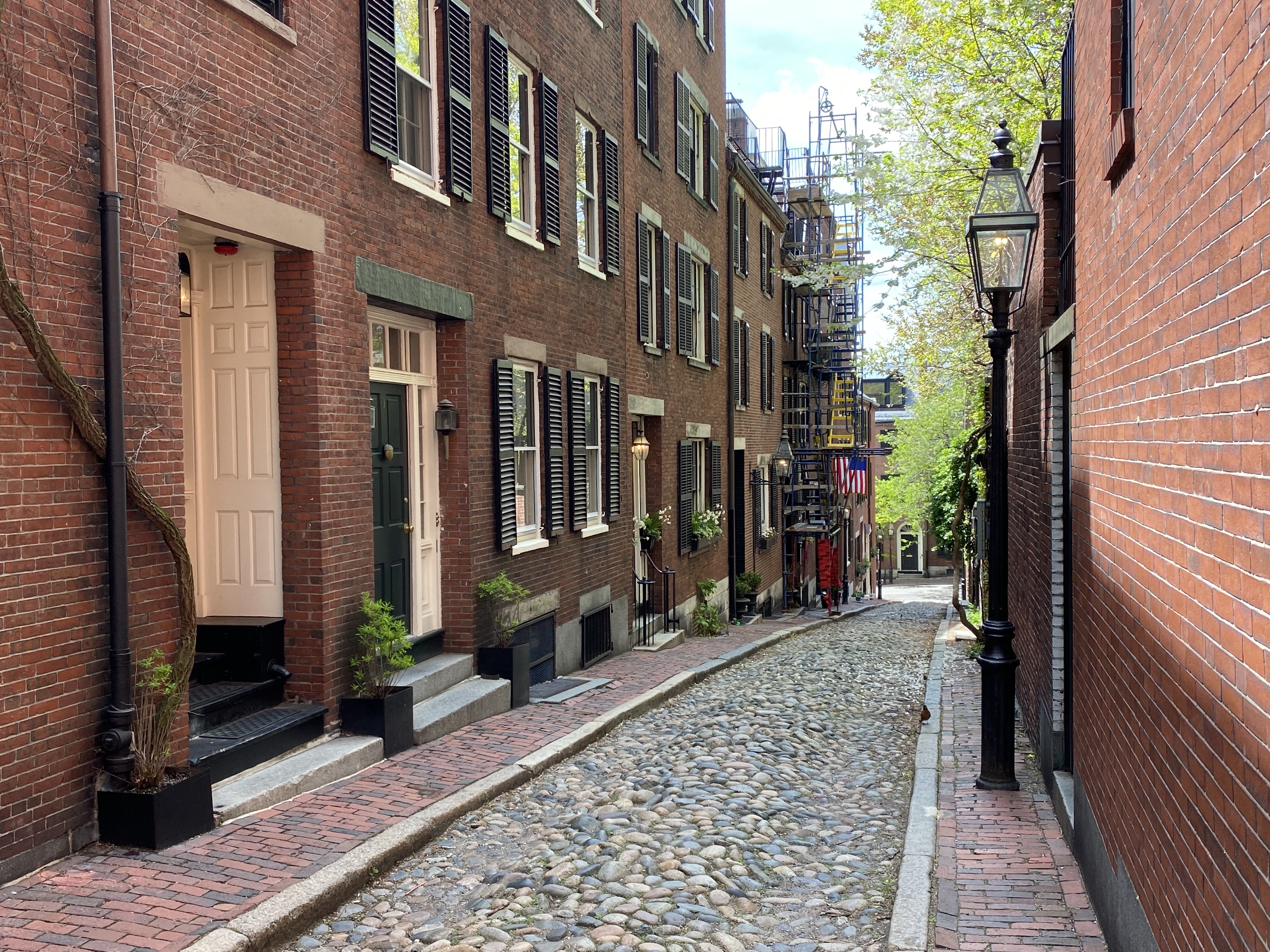 ---
| | Median Rent | Median Sqft |
| --- | --- | --- |
| Studio | $2,500 | - |
| 1 Bed | $3,025 | 625 sqft |
| 2 Beds | $4,975 | 920 sqft |
| 3+ Beds | $19,500 | 4,200 sqft |
Beacon Hill is the oldest and arguably most exclusive place to live in Boston. This National Historic Landmark District is known for its charming neighborhood feel and iconic 19th-century row houses that line the narrow cobblestone streets.
Walking the brick sidewalks of Beacon Hill, you not only feel transported to another time but also another part of the world. For such a quaint and distinguished neighborhood, Beacon Hill draws a unique mix of homeowners and renters, from college students to young professions and families to empty-nesters.
In addition to the appeal of living among the city's most notable Federal and Greek Revival architecture, Beacon Hill boasts a central location, easy access to public transportation, proximity to greenspaces and the Charles River, plus delicious restaurants and an eclectic assortment of shops and boutiques.
Thanks to its small size, Beacon Hill is widely considered the most walkable neighborhood in Boston. From here, you're also just steps away from every major T line (Boston's public transportation system), making the rest the city within easy reach. Take your pick from the Charles MGH or Park Street stops on the Red Line to bring you north to Harvard Square in Cambridge and Somerville or as far south as Quincy and Braintree. Connect to the Green Line at Park Street station to take you out to Symphony, Fenway, or The Museum of Fine Arts in just 15-20 minutes. The Bowdoin stop on the Blue Line makes East Boston's waterfront easily accessible as well.
Walking the cobblestone streets of Beacon Hill, you'll find more than just everyday conveniences. Quintessential Boston scenes paint your every turn, from Charles Street on the Flat of the Hill to the towering golden-domed State House at the top. Venture up the Hill, where you'll find everything from studios to one-bedroom and two-bedroom apartments to the city's most stately homes. While bikers are welcome in the neighborhood, the hilly streets, cobblestones, and bricks make for a rather bumpy ride. Thankfully, Beacon Hill is only a matter of minutes from the Charles River Esplanade.
For those used to navigating the neighborhood on foot, sitting behind the wheel of a car can take some getting used to with all the narrow one-way streets. On a positive note, Beacon Hill's location offers drivers easy access to Storrow Drive and I-93. Parking in Beacon Hill can be tricky if your apartment doesn't come with a designated spot. While residential street parking is available, it's in high demand, and most parking garages charge at least $30 per 24 hours. Visitors to Beacon Hill can try their luck and patience as they look for an open two-hour metered parking spot on Charles Street or the nearby streets surrounding the Boston Common.
There are plenty of restaurants in Beacon Hill to satisfy any taste and budget. Elevated pub fare and seafood glow under the mood lighting of 75 Chesnut, nestled on a corner street. No. 9 Park brings folks an intimate meal of European sophistication and portions. Toscano's upscale Italian menu and 100+ exclusive wines will transport you to Florence.
Tatte's heavenly bakery scent draws near block-long lines on mornings and weekends as your go-to cafe option. And you're never far from a caffeine fix with two Starbucks in the area, one at either end of Charles Street.
Eating in Beacon Hill is not all pomp and circumstance: Panificio, Peregrin's, and The Paramount provide casual dining both in and outdoors on Charles Street. You'll also find plenty of bars in Beacon Hill from 21st Amendment to the Tip Tap Room and even famous Cheers (yes, the bar that the Cheers TV series was modeled after).
Last but not least, stop by Beacon Hill Chocolates and try any one of their local or imported sweets.
There's no shortage of grocery stores in Beacon Hill to choose from, including the Whole Foods Market on Cambridge St., Roche Brother's in Downtown Crossing, and DeLuca's on Charles Street, a neighborhood staple since 1919, Top Shelf Boston, and Savenor's Market (one of the best butcher shops in Boston and beyond). In addition, nearly every major East Coast grocery chain is less than 15 minutes away by car— hop onto Storrow Drive for Market Basket, Stop & Shop, or Trader Joe's in Cambridge or take I-93 North to access places like Wegman's in Medford.
Compared to Newbury Street in the neighboring Back Bay, Beacon Hill offers similarly high-end shops on a smaller scale and at a less hurried pace.
At the heart of Beacon Hill is Charles Street, the main attraction for shoppers in the neighborhood. Here, you'll find a range of independently owned stores and boutiques, a joy to explore whether you're looking for a new statement piece or the perfect gift. Ouimille's is a must-shop for curated European apparel and jewelry. For those on the hunt for up-and-coming designers, Crush Boutique, although pricey, is sure to please. Blackstone's of Beacon Hill is a knick-knack and gift shop favorite, as is nearby Black Ink, specializing in what they call unexpected necessities such as mechanical pencils, quirky paper clips, and specialty wrapping paper. December Thieves offers unique pieces from around the globe. Upstairs Downstairs Antiques stocks new and vintage decor and home furnishings. And The Red Wagon has a sweet selection of unusual gifts for babies and children.
Beacon Hill's central location gives residents access to all that Boston has to offer. The Boston Common and Boston Public Garden alone provide year-round entertainment and activity, from Christmas Tree lighting and ice-skating on Frog Pond in "The Common" to tulip viewing and swan boat rides in the Boston Public Garden. Take a stroll, jog, or bike ride to the Charles River Esplanade with sweeping water views along a pathway almost 3 miles long that runs from the Museum of Science to the Boston University bridge. On the eastern end of the Esplanade near Beacon Hill, you'll find the Hatch Shell, the perfect place to take in an open-air concert or local event. Also in this area is the launch for Community Boating, Boston's public sailing organization, the oldest of its kind in the United States. And don't forget to mark your calendar for the Head of the Charles Regatta in October, the largest 2-day regatta in the world.
Walk through the Boston Common from Beacon Hill and find yourself headed straight for Downtown Crossing and the Theater District. Or weave your way from the Common through the Boston Public Garden to exit onto Arlington Street, where the Back Bay neighborhood begins. Government Center and the Seaport are also within a 15 to 20-minute walk of Beacon Hill.
This list would not be complete without highlighting the most photographed street in the city: Acorn Street. From the base, gaze up the narrow, cobblestone street for colonial Boston in a frame.
History buffs won't tire of the many museum and tour options in the surrounding area. For the ultimate American Revolution walking tour, head to the start of the Freedom Trail at Park Street and prepare for a 2.5-mile stretch of museums, churches, burying grounds, parks, and a ship marked by a brick trail that tells America's birth story.
A center for the abolitionist movement in the years leading up to the Civil War, Boston honors its anti-slavery roots in Beacon Hill's Museum of African American History, New England's largest museum dedicated to preserving and interpreting the work of African Americans. The African Meeting House, where the museum campus starts, is the oldest African American church in the nation along with the nearby Abiel Smith School, both serving as the centers of the community in the early 1800s and current-day reminders of the fight for freedom. Another hub for the anti-slavery movement is the Charles Street Meeting House, where Frederick Douglass, William Lloyd Garrison, Harriet Tubman, and Sojourner Truth made their voices heard.
The Massachusetts State House, with its instantly recognizable golden dome, offers free tours on weekdays. You can learn more about the building's architecture and history, read about the Ladybug (the state insect) and see the House and Senate chambers (make sure you spot the "Sacred Cod" - a wooden fish holding the seat of honor in the House chambers).
Once you've toured the respectable confines of the area, know that nightlife abounds in the nearby Downtown Crossing, Theatre District, and Seaport areas, all a short walk or ride away. If you'd rather not travel too far, you'll still have your pick from one of the many classic Boston pubs for a drink, or you can head to Scholars for pool, darts, and dancing. If you're not the dancing type, vintage arcade VERSUS on Province street offers a compromise with everything from pinball to modern console games in an 80s-inspired bar scene. And finally, movie-goers rejoice at the giant AMC Theatres across from the Common.
Beacon Hill's prime location makes it perfect for the urban college student, with Emerson College a mere 12-minute walk away. Similarly placed downtown is Suffolk University on Tremont Street and Tufts Medical School, just under a 20-minute stroll. Other schools near Beacon Hill include Emmanuel College, Bay State College, and Fisher College.
We rate and sort every listing based on fair market rent.