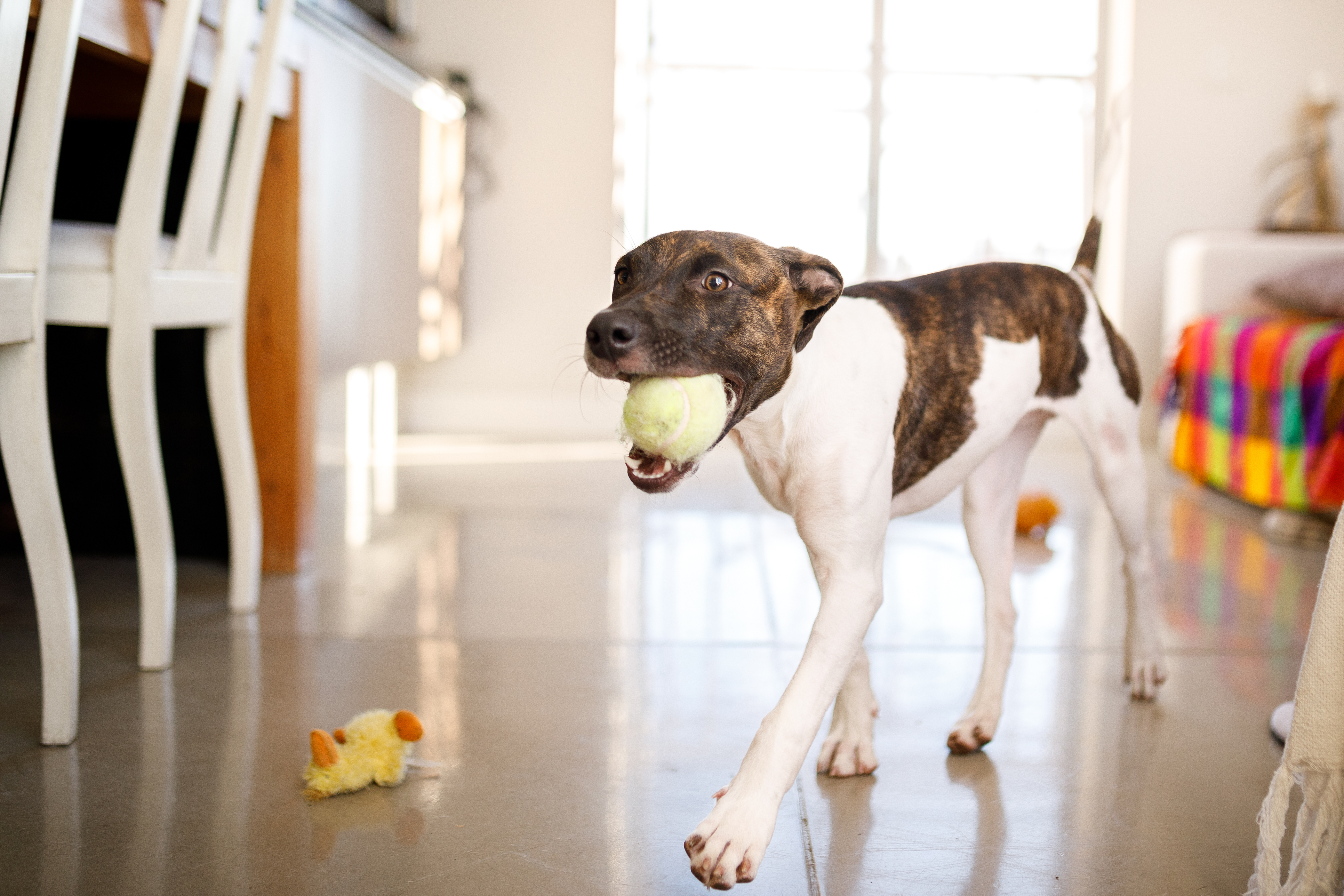 ---
Thinking of bringing a new puppy home or moving you and your dog to a new apartment? You may need to do some pet-proofing.
Dogs may be man's best friend — but they're not always so compatible with apartment rentals. It can take a little work to find a pet-friendly apartment, but once you do, there's a few extra steps you should take to ensure that you'll keep the place clean while keeping your furry friend happy and comfortable (especially if you want to get your security deposit back).
"One of the best ways to ensure your dog and you stay sane in an apartment is through the use of mental exercise and enrichment," says Devin Stagg, host of The Perfect Pup podcast, New York City renter, and owner of two large Labrador retrievers.
We spoke with Stagg and other dog owners and experts to get their tips for keeping your dog stimulated, keeping them safe, and keeping your apartment clean. Read on for our guide on dog-proofing your apartment and other tips for renting with dogs of all ages.
Mental Stimulation is Key
Stagg swears by mental stimulation when it comes to taking care of dogs inside. While exercise outside is necessary for a dog's health, playing with your dog inside can also help ensure your dog doesn't get bored and start destroying your furniture, or potentially hurt themselves or others with an intense bout of the zoomies.
A few products he recommends are:
Snuffle mats, which can be filled with treats or kibble. They're used to let your dog forage and sniff out food.
Lick mats, which can be covered in peanut butter, yogurt, etc. and then frozen. Similar to a snuffle mat, a lick mat given to your dog to keep them engaged.
Flirt poles will usually be an effective solution for indoor exercise, even in a small space. If your dog seems to need to get some movement, grab a flirt pole, which is essentially a stick with a toy on the end, and let your dog chase it to their heart's content.
If you are looking for a more budget-friendly option, you can make your own food puzzles for your dog to enjoy.
"Fill up a few small cardboard boxes, such as empty egg or cereal boxes, with treats for your dog to work at extracting. Another trick is to spread cream cheese or peanut butter (make sure it's xylitol-free) on the inside of a pizza box and have your dog work on that for a while," says Susan Nilson, a cat and dog training and behavior expert.
"Dogs have a powerful sense of smell and love to forage, sniff and seek things out. Research shows that sniffing lowers blood pressure and heart rate, so is a great way for your dog to calm down naturally while engaging in a hugely rewarding activity."
If you have any outdoor space, you can consider buying or building your dog a digging pit. Zack Keithy, a former vet technician and owner of the blog Daily Dog Drama, recommends this sandbox-like distraction as well as some digging toys to help your dog use up their energy when you don't have the opportunity to take them on a walk or to a park.
A washable snuffle pad can be a great way to keep your dogs mentally stimulated indoors.
Dog-Proof Your Decor
It's no secret that dogs aren't always the neatest pets. As a pet owner, you must learn to embrace a little bit of mess — but with the right strategies, you can make sure your apartment stays as clean as possible. Plus, with a little bit of dog-proofing, you can reduce the risk of your dog knocking over anything that can potentially hurt themselves or others.
A few steps you should take when dog-proofing are:
Buy linens, rugs, couch cushions, bedding, and any other cloth-based decor that can be easily thrown in the washing machine. It's pretty much a given that your dog will attract dirt and bring odors into your apartment. Skip the headache and make clean up easy. Load up on some cleaning supplies and try to only buy items that you're able to easily and regularly clean, says Stagg.
Hide anything chewable or dangerous. Think: electrical cords, shoes, books, houseplants, medications, or human foods. It's normal for dogs to want to chew on your stuff, especially if they are puppies who are teething, but it can be frustrating for owners and dangerous for their pets. If you don't want your dog to ruin something, keep it out of reach in a storage bin, on a high shelf, or in a cabinet, says Keithy. Puppy-proofing will give you peace of mind when it comes to your dog's safety, as well. Lots of foods and even some plants can be potentially fatal for dogs if they ingest them.
Secure trash cans and cabinets. If you've already done the important step listed above, Keithy also recommends taking it a step further by making sure your dogs won't be able to dig around in any banned spaces. Get a trash can with a lid that your dogs can't open or reach and make sure to always close closet and cabinet doors. If your pet is extra curious, you may need to get some latches for your cabinets or a dog or baby gate to keep them out of dangerous areas.
Protect your furniture. If your dog does end up getting the zoomies inside, you don't want them to hurt themselves while they're running around. Create a safe space for your dog to play by sanding any sharp edges down on your furniture or put covers on them, Keithy says. If you have lots of glass furniture or objects, consider replacing them with plastic or wood that will break less easily.
Have a hack you'd like to share about renting with pets? We'd love to hear it! Share and tag us on Twitter or Instagram.
We rate and sort every listing based on fair market rent.