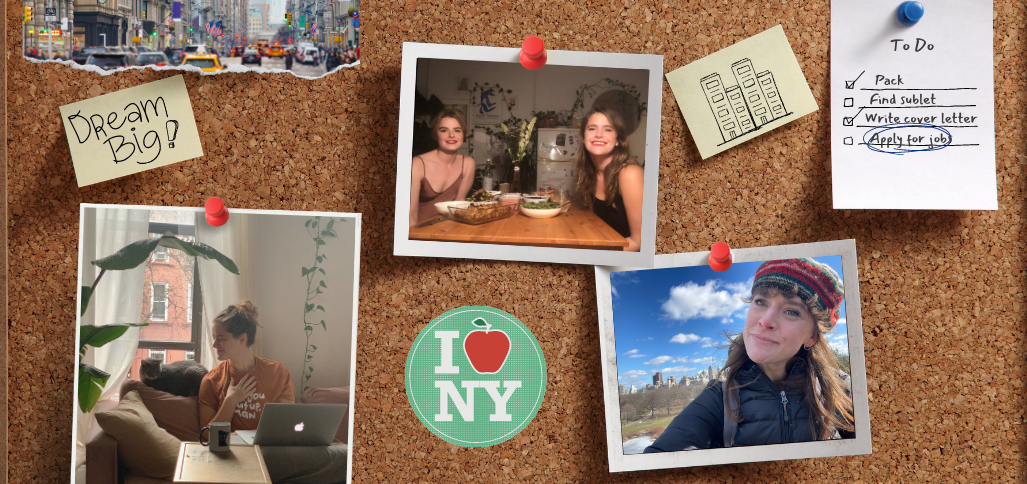 ---
When I visited New York City for the first time in my late twenties, I stayed in the Bushwick neighborhood of Brooklyn, with my childhood friend from Minnesota, Claire.
For years, Claire tried to convince me to leave my easy-going life in Melbourne, Australia — where I had settled after college graduation to try living internationally — but it wasn't until a breakup with my long-term, Australian boyfriend that I decided to bolt away from my life down under.
I was drawn to NYC because of the numbers: of job openings, of people in my network living there, and of other single 30-somethings.
The only problem? I would be moving to New York City while unemployed.
Despite having a few months of an emergency fund saved up, I didn't plan on being unemployed and living off of my savings for long.
Before moving, I started applying for jobs remotely. But putting it lightly, the application process for communications roles in NYC was intense. I got to the final steps of two jobs with four and five virtual rounds of interviews each, but in the end, one employer gave the role to someone else, and the other was on a hiring freeze.
My plan was to sign a contract for a new job before I made the move, but I was impatient. Before moving to NYC, I formed an exit plan: I let my whole network of friends, family, and former colleagues know I was moving and looking for work and gave myself six months to "make it" in the city.
Starting From Scratch
In April 2019, I arrived on Claire's doorstep with only two bags in tow. (It's a point of pride that my first move in NYC fit inside an Uber!)
Though I'm a bit of a packrat by nature, moving with less was simpler and far cheaper. Eventually, I found furniture and other necessities by using local "Buy Nothing" groups on Facebook that offer free, gently used items, and found sidewalk stoops to be a fantastic treasure trove.
When I arrived, I didn't feel like I knew enough about where I wanted to live to rent or sublet. So, I crashed with Claire for two months, contributing rent when I could. Having a best friend in the city was a huge benefit for me, emotionally and financially.
Before moving to NYC, I formed an exit plan: I let my whole network of friends, family, and former colleagues know I was moving and looking for work and gave myself six months to "make it" in the city.

—
Networking in a New City
I embraced the hustle of New York as soon as I moved, albeit with a little awkwardness. I took my networking a step further than perusing LinkedIn; as they say, you are who you know, so I used a spreadsheet of new contacts given to me by friends and family to find leads on apartments and secure informational interviews.
Even as an extrovert, it was nerve-wracking to constantly feel like I was about to go on a "first date" with a potential new friend or new contact in a new place. I was surprised to find that most New Yorkers remember how hard it is to move to the city they now call home.
Through this kind of in-person networking, I learned about fun things I could seek out in NYC — like the best parks and places to see music. I met friends and friends of friends, who also opened their networks to me. I also used apps like Eventbrite and Bumble BFF to meet more people.
Finding a Sublet
After two months of all-day networking and sleeping on Claire's couch, I felt that I knew enough about New York and its boroughs to know where I wanted to live. I chose Bed-Stuy in Brooklyn, where life felt calmer than Manhattan.
However, finding an apartment through a broker or real estate agent in NYC without proof of employment is nearly impossible. Many places require you to prove that your income is 40 times the monthly rent, otherwise you generally need to use a guarantor. (According to our rental data, the median rent for a one-bedroom apartment in New York City is $4,159 a month, or $3,620 for a studio. This means that, to rent a one-bedroom without a guarantor, you'd need to be earning $166,360 a year, or $144,800 for a studio.) Not only that, but you also need to have enough money to put down a security deposit and first and last month's rent.
At the time, my financial situation was a little less than ideal for renting. I was making a little money nannying the daughter of a indie rock star (stories like this are bound to come when moving to New York), but not enough to rent without a cosigner or guarantor. To work within my budget, I found a sublet for an apartment with roommates. Sure, there was only one bathroom for five roommates, but it was a start. Subletting, rather than renting, also helped me avoid summer — the busiest and most competitive time of year in New York's rental market.
Subletting my first apartment made me feel like I was starting to succeed in New York — but I was also aware that I was almost halfway into my six-month plan with no full-time job. I had no choice: I trusted my gut, kept meeting with people and sending my resume, and stuck it out.
After a month in my new sublet — with only three months left in my timeline — I was staring at the Manhattan skyline from my Brooklyn rooftop, wondering if I would have to wave goodbye to my New York dream. Just then, I got the call. The employer that put hiring on hold had finally extended an offer. I got the job! Plus, I learned through my networking what to expect from this employer, who was known to be challenging, and I walked into work with my eyes wide open.
Subletting my first apartment made me feel like I was starting to succeed in New York...

—
Looking Back
Thinking back to 2019, I can offer some advice from experience for those who are moving to New York City unemployed:
Don't be shy to ask friends and former colleagues for help when you're feeling stuck. Moving to a big, new city can be overwhelming, so having an extra set of eyes on your resume and cover letter or a potentially shady Craigslist rental listing can prevent you from ruminating on what to do next.
Write down all your skills and experiences that could bring in cash when you're waiting for the job of your dreams. Finding a short-term source of income, like I did with my part-time nannying job, will lessen your money stress and allow you to ultimately take a job that you truly want rather than one that you think you need when money is tight.
Network like it's your full-time job, but give yourself breaks to breathe and enjoy the city you're working so hard to live in. When you're relaxed and doing what you truly enjoy, like joining a neighborhood garden or sports team, you will forge new connections more naturally while giving yourself the energy you need to continue the job search.
Remember that if you find yourself in an unpleasant living situation, you don't have to grin and bear it. Breaking your sublet or lease isn't ideal, but sometimes it can be worth it to find a more comfortable space that better aligns with what you need — whether it's finding a cheaper rent or shelling out more for a calmer, or bigger space.
Be creative and embrace unexpected outcomes when plotting your plans for NYC. The city offers so many ways to make a living and live. Sometimes the most meaningful experiences you can have are when you trust the opportunities that arise that just feel right, without knowing where they will lead.
Now, I am grateful to live alone in a studio, working for myself, enjoying the culture of the city with my boyfriend and friends, and living a life that's much less frenzied than my first year was. New York may not always be the easiest place to live, but I have felt more inspired and invincible than ever in my life.
---
Ali Hickerson is a writer and Brooklyn renter, who hopped back to the US after 9 years of renting in Melbourne, Australia. Her work has been published by Better Humans, the United Way, and more.
We rate and sort every listing based on fair market rent.