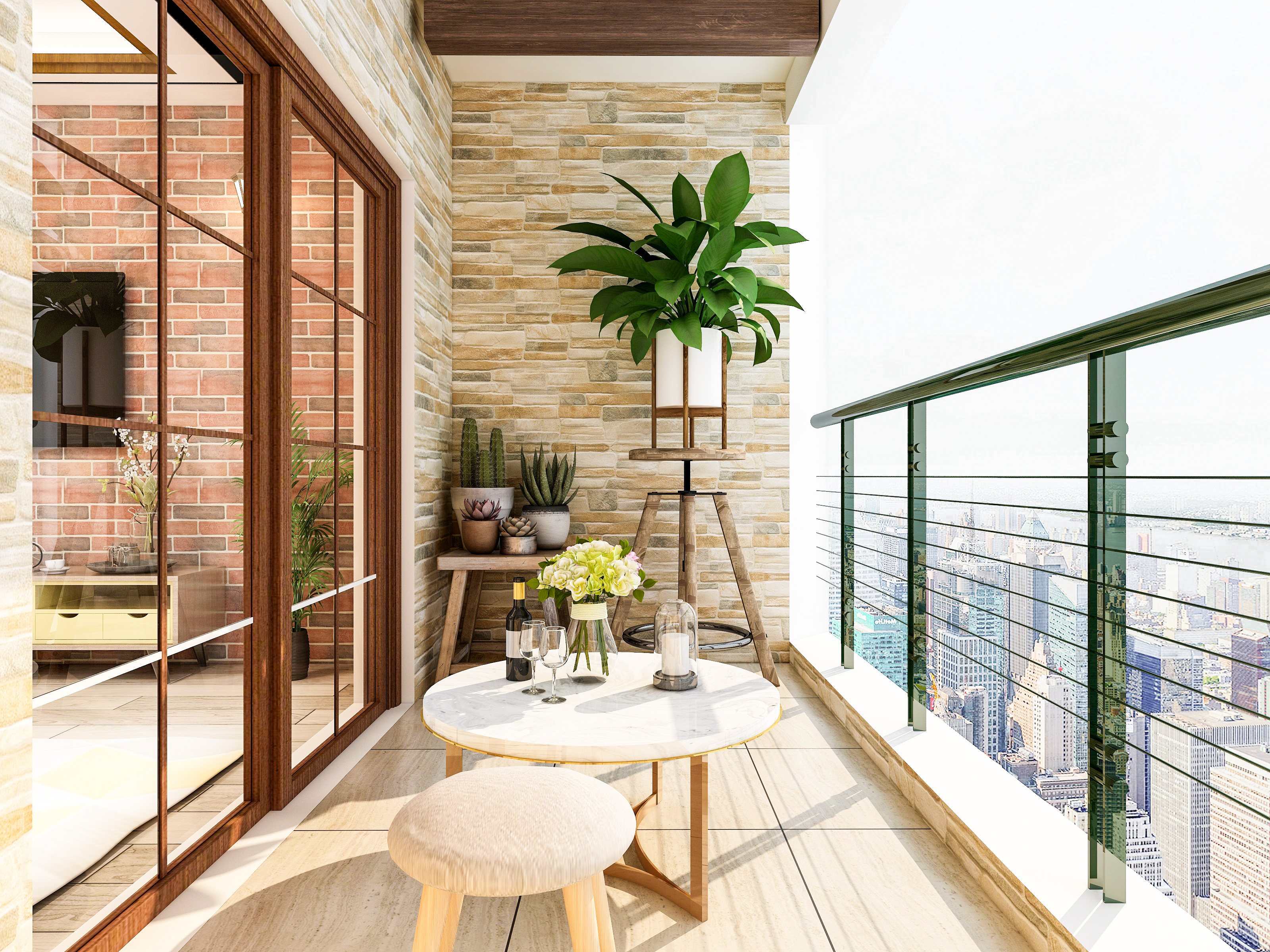 ---
With Memorial Day coming up, you may be thinking about fresh air and outdoor entertaining (or, if you live in an apartment without outdoor space, lamenting the fact that you won't be hosting any barbecues this year). While apartment balconies aren't always the best spot for grilling, they can still be a great space for spending time outside or entertaining in the summer.
We spoke to two interior design experts — both of whom often work with renters in small spaces — to get their takes on how you can elevate your outdoor area without breaking the bank or losing your security deposit.
There are four elements of design that come into play when entertaining outdoors, according to Artem Kropvinsky, founder of interior design firm Arsight: "Seating, lighting, greenery, and décor." We go through each one in our guide on getting your porch or balcony ready for patio season. Read on for decorating ideas for a small balcony or apartment patio.
Seating
While there typically isn't a lot of room for furniture on an apartment balcony, making room for some sort of seating area is still a must if you plan on inviting people over to hang out outside. Luckily, there are some multifunctional pieces that are worth the investment if you want to make the most of your space. Kropvinsky recommends getting durable outdoor furniture that also has storage, like an ottoman or table with room for storing blankets or other outdoor essentials.
Cameron Johnson, interior designer and founder and CEO of furniture rental company Nickson Living, recommends getting seating that can easily double as a small table, like a bench or stool.
When you're picking out your pieces, look for weather-proof, durable materials, like wicker, stainless steel, plastic, or teak, Johnson says. Be warned: When you go into a big box store looking for patio furniture, you'll typically see pieces intended for a single-family home that are on the larger side. Don't get tempted by large pieces like this, Johnson says. Instead, focus on smaller individual seating options that won't take up too much space on your small patio.
Using indoor furniture outdoors is an option — especially if you use a protective, weatherproof furniture cover — but these pieces are less likely to last.
Lighting
Apartment balconies rarely come with built-in lighting, and if they do, it's usually minimal. Adding accent lighting can go a long way in making your outdoor set up feel more intentional and welcoming. When it comes to adding a cozy ambience to your porch, Kropvinsky and Johnson agree that string lights are the way to go.
If you want to advance your lighting set up a bit more, consider adding a sensor that will automate when your lights turn on and off.
"You can drape them around the balcony railing and you can use a dusk to dawn sensor that will automatically make those lights come on when it's dark and go off when the sun comes up," Johnson says
Kropvinsky has also used battery-powered candles for clients looking to spruce up their outdoor space in the past.
Greenery
You're not the only one who loves being outside in the summer. Your plants benefit from it, too — and adding some greenery to an outdoor space can be a small change with a big aesthetic impact. You don't need to create an elaborate balcony garden; a couple of planters is all you need to bring some life to your patio. If you're worried about space, you can also go vertical. Always check with your landlord before making any significant changes to your space, but consider adding hooks or other hardware that will let you add hanging baskets
"Hardware has come a long way," Johnson says. "While you can't physically manipulate the space, you may be able to add hooks into the ceiling potentially of your outdoor space without damaging it."
If your balcony isn't properly set up to add any hardware, worry not; a set of shelves will do the trick and allow you to add a few small succulents or houseplants
When purchasing plants for your outdoor space, remember to do a little research on what level of direct sunlight they need. If your porch or balcony doesn't get a lot of natural light, look into adding plants that don't need a lot of sun like a pothos or spider plant
Décor
The final step to getting your patio ready to host guests is adding some décor — but don't overdo it. The biggest mistake people make when decorating a balcony is going too big, Johnson says.
"In a small space, you can never go too small," he says. If your main goal is entertaining, then "you want to leave enough room for circulation and for people."
His go-to patio ideas are a durable outdoor rug to cover your balcony floor, a few stools or chairs, and a foldable TV tray that can function as a plant stand, a coffee table for food and drinks, or a side table or stand for a speaker — or be folded up and removed if necessary. If you're married to the idea of al fresco dining, consider an electric grill. While most apartment buildings don't allow charcoal or gas grills, they do allow electric grills on their balconies, which don't create smoke and don't run the same fire-risk as a charcoal or gas grill. He recommends the Weber Q Electric Grill.
Both Johnson and Kropvinsky recommend saving where you can on outdoor furniture and outdoor décor. If you're looking to buy something new, Johnson says he would recommend heading to a store with lower price points like Walmart, Target, or Ikea, or ordering furniture for Wayfair. If you are more interesting in saving, Kropvinsky recommends doing some DIY upcycling or weatherproofing on furniture from the thrift store.
We rate and sort every listing based on fair market rent.