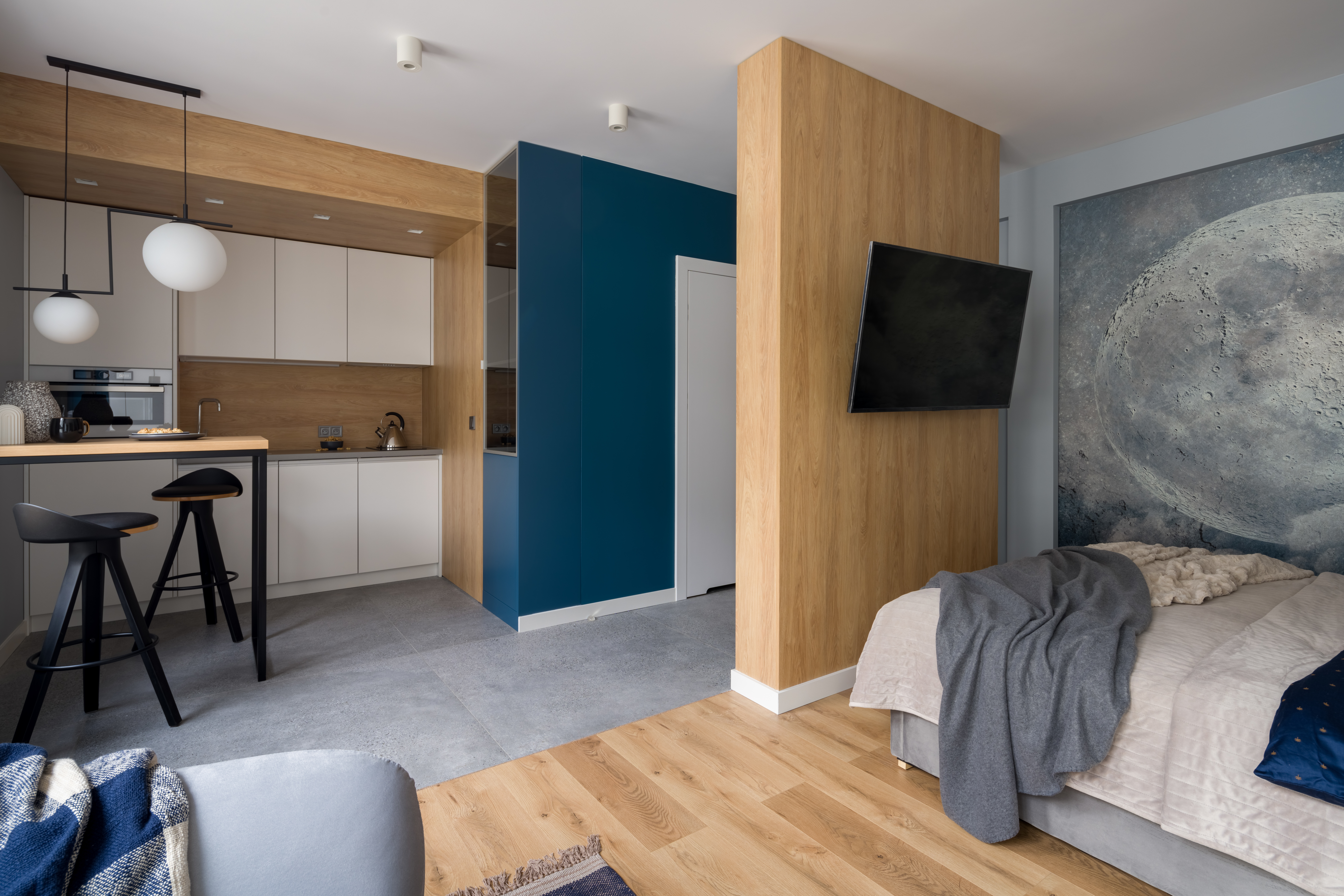 How to Maximize Space in Your Studio Apartment: Tips from an Interior Designer
---
Have big design dreams in a small apartment? We want to help you make those a reality. Just because a space is small doesn't mean you have to give up style. Apartment living doesn't have to be limiting.
We spoke to Lauren Werkiser, VP of Interior Design & Architecture at Morgan Properties, one of the three largest apartment owners in the nation, to get her tips and decorating ideas for marrying function and stylish design in a studio, regardless of size or floor plan.
Tip: Divide Your Apartment into Sections
Whether you have an L-shaped studio, which has a small alcove or nook, or a traditional square or rectangle-shaped studio, it's important to divvy up your space before you start furnishing, Werkiser says. While everyone's needs are different, she likes to follow a 60/40 rule, where 60% of the square footage is devoted to an entertaining or living space (which would include a sofa, coffee table, media center, and other traditional "living room" furniture) and the other 40% is devoted to the bedroom or sleeping area (which would also include clothing and closet space.)
She recommends using a free website like Floorplanner to plan out your studio apartment layout, and test where you might put furniture before you actually move anything in. That way, you can make sure all your furniture will fit and that you'll have enough room for everything you need. Plus, you can test out a few different styles or color schemes and see what works best for you. Keep in mind: Your coffee table may end up being your dining table as well, so take time to find furniture that will work in multiple ways.
Tip: Be Creative with Dividers
For some people, a downside of small studio apartments is that you can see everything — all the time. If you have company over in your living area, your bedroom area will be on full display, meaning that you'll have to keep it pretty clean at all times. This is why some renters elect to buy room dividers that block off certain sections.
There are pros and cons to traditional room dividers, Werkiser says. The pros: They can give you a little privacy and some have drawers or shelving, which create extra storage opportunities. The cons: "They break up the space, especially when it's really small… It's a box inside a box." They can make a space feel smaller and cut off access to natural light depending on how you use them.
If you're worried about wasting precious floor space on a divider, consider getting creative when divvying up your space. One hack that Werkiser offers is hanging some lightweight or sheer drapery on a tension rod that you can easily open or close depending on what you need. This option takes up very little space and requires no drilling or alterations to the unit. Another option is to intentional with furniture placement, and use that to create the "zones" of your apartment, which can give the illusion of more space.
In this studio apartment, a bed is back-to-back with a television and entertainment center, creating some natural separation between the living and sleeping areas.
"Don't be afraid to put furniture back-to-back; that also can serve as a separation," Werkiser says. Maybe you have your sofa, but right up against the back, you have a large dresser credenza that looks like a sofa table and on the other side is storage for your bedroom. That can be a natural separator." 
In the above example, the dresser is doing double-duty as a sofa table and a dresser for clothes and becomes a piece of multifunctional furniture; in a studio, she recommends that furniture is functional on all sides so no square foot goes to waste.
Tip: You Can Find Storage in Unconventional Places
Studios aren't known for having an abundance of closet space, so don't be afraid to get creative with your storage solutions. You don't have to go full Carrie Bradshaw and store shoes in your oven, Werkiser says, but don't be afraid to find a home for some of your belongings outside of your bedroom space. For example, if you have a media center with drawers or cabinets, you can use those to store some shoes, clothing, or linens and towels. 
If your studio has any sort of alcove, or nook, that can be a natural place for a desk and workspace or a DIY closet, if you add a tension rod or a curtain to cover it. If you're handy, you can also add some open shelving to make it a more efficient use of a small space. If you don't need the extra space for clothing, you can store extra seating in there or fill some storage baskets with household items like cleaning supplies.
When deciding on your studio apartment design, find pieces of furniture that have built-in storage as well if you can, like a bed that comes with drawers underneath or an ottoman that opens up and can hold linens or other household items inside.
Tip: Use Your Vertical Space 
While a lot of the conversation around studio apartment decor revolves around using the limited space efficiently, part of an effective interior design will also make use of vertical space. For example, if you want lighting beside your bed, think beyond a simple floor or table lamp. A renter-friendly way to make use of the vertical space is to install a plug-in wall sconce, that won't need any special electric work but will look elevated and free up valuable floor or side table space. Floating shelves, bookshelves are another space-saving option that can also add storage space. 
For more home decor and storage ideas, check out the rest of our Lifestyle section.
We rate and sort every listing based on fair market rent.