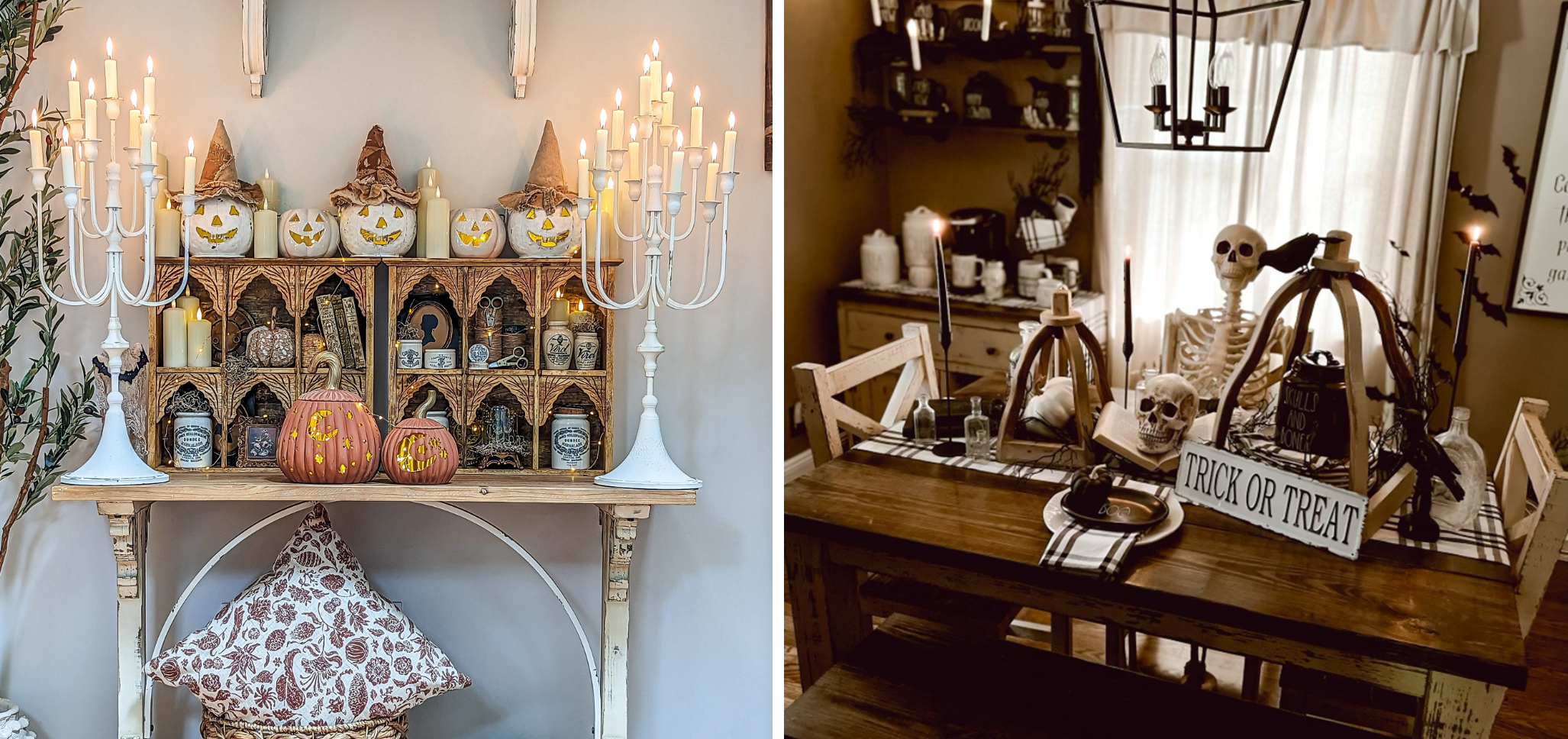 ---
Changing the look of your space with fall decor is part of the joy in celebrating the season. But if you take care in outfitting your interiors, there's a good chance the prospect of decorating for Halloween can make you feel backed into a corner of colors, textures, and props that just don't feel like you.
Maybe the fake tombstones, plastic spider webs, and light-up pumpkin heads aren't blending with your carefully curated minimalism. Or maybe your Halloween decor dreams are tainted by the horror of months-early seasonal décor aisles, with cobwebs, creepy crawlies, and motion sensor–powered monsters jump-scaring you out of your flip flops while you were just looking for sunscreen and a beach read.
But now that October is actually here, we're going to help you face your fears and take on the challenge of decorating with the helpful Halloween ideas from two interior decorators who each take a different approach.
According to Sharon Theresa Pinto Hess, published home designer and owner of Wildflower Farmhouse, Halloween decor doesn't have to disrupt the harmony of your interior design and it doesn't have to follow a preset template; you can adapt it to your personal style.
Meanwhile, for interior design enthusiast Bryan Cosham-Tittle, the fun is in embracing that change. "In seasonal decor, I tend to think outside the box," he says. 
Whichever route you choose, Hess and Cosham-Tittle are here to assure you that facing the task of decorating your apartment for Halloween doesn't have to be so spooky. Read on for their halloween decorating ideas as you prepare to turn your living room into your very own haunted house.
Sharon Theresa Pinto Hess's interior design taste is what she likes to call "Victorian cottage" style.
Hess's claim to fame is her blending of each of the seasons into her own signature style. To do that, Hess has adopted some go-to Victorian-inspired items that she uses to anchor her looks. Among them: ironstone pottery and ornate gold-framed mirrors. "If you live in an apartment or small home, a mirror bounces light around way more and makes your space look a little bit bigger because of that," she says. Plus, they're great for layering looks, which is one of her strengths.
For her Halloween endeavors this year, Hess knew her signature style could shine through. "When I think about the Victorian era, everything back then was really cozy and dark and moody," she says. She stuck with that dark and moody element, adding some spookiness to the equation with an apothecary setup. She picked out jars with creepy words like "meat" and "bone marrow" and layered them among witchy, earthy details like tattered witch hats, a blue butterfly in a cloche, and Spanish moss. The candle holders bring the whole concept back in time, and also add dynamic silhouettes to her decor.
The first thing she looks for while decorating: A base. For the apothecary ensemble, her base was the two shelves. She saw immediate potential for her apothecary display with the detailing in the wood — plus added points for versatility. It's pieces like these, she says, that can give you flexibility in a small space. "If you live in a small apartment, you can just stack them up vertically," she says.
Something she never leaves out: Vintage books. She finds that they somehow fit with every holiday. "I always have books out and about for every season," she says. Her advice is to find them in different colors — neutrals, earth tones, even red, white, and blue. For Halloween, she makes use of her darker-colored vintage books to fit with the darker vibes of the display.
Her biggest challenge this year: Hanging things. "Hanging anything is always interesting and often a challenge. I typically use Command hooks," she says. Especially when hanging round objects like jack-o-lanterns on mantel ensembles, it can be difficult to find a way that they aren't protruding awkwardly from the wall. She says breaking out the fishing line can help to get the job done. "It's an adventure," she says. 
Brian Cosham-Tittle's interior design taste is what he likes to call "cozy country cottage" style.
When his passion for interior design began, however, his style was different — and still changes year after year. "My interior design style is ever evolving," he says. "When I first started on my home decorating path, my home was decorated in a very primitive, country-styled look with dark colors and moody tones." Now, his home is full of neutrals, but he takes opportunities to change the look with the change of seasons by using different colors and decorations to let his creative spirit flow freely.
Halloween is no exception. For this year's spooky season, he tried out a new black-and-white color scheme, a deviation from his standard brown tones, to bring a Hocus Pocus theme to life. He even hung witch hats and candles throughout the space. "Those were definitely out of the box for my normal decor tendencies," he says.
The first thing he looks for while decorating: A statement piece. For him, the statement piece will always inspire ideas to flow, and that's when the rest of the room will start to fall into place. Plus, choosing what will be the centerpiece of his design before anything else invites previous years' decor to come out of storage and accent the new items, as opposed to shopping for new filler items first.
Something he never leaves out: Cozy textures. These are the finishing touches that make a room feel warm among an abundance of wood furniture and accents of metal — the table and bench, the chandelier, the galvanized steel stools. These cozy texture picks can include items like blankets, pillows, and tablecloths. In this display, he chose a black and white Burberry-plaid table runner and matching napkins.
His biggest challenge this year: "Setting up the skelly! He kept falling over," says Cosham-Tittle. Eventually, he ended up tying his spooky Halloween skeleton to the chair with fishing wire to avoid any broken bones.
We rate and sort every listing based on fair market rent.