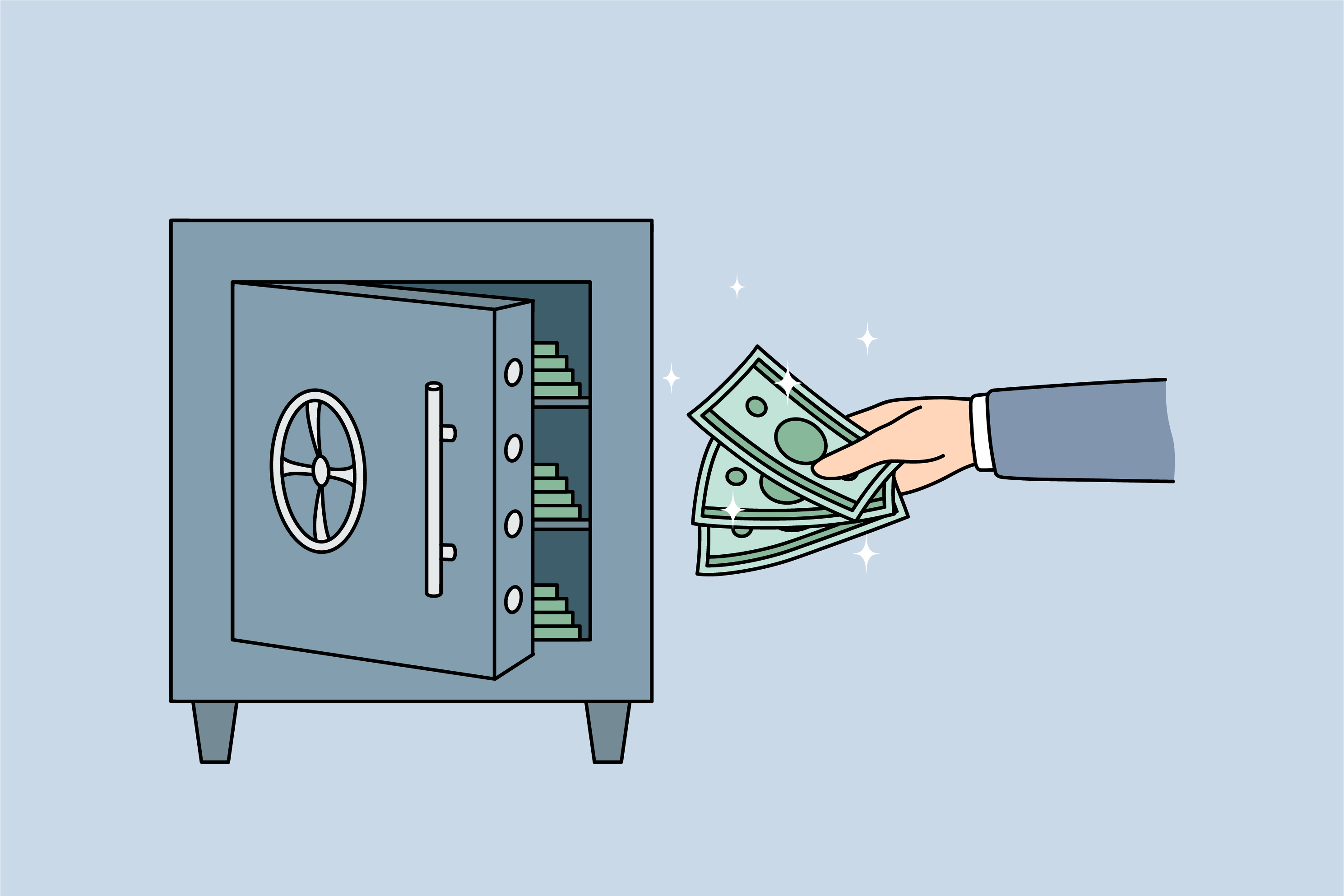 ---
When you're moving into a new home, the upfront costs can be steep. Between paying first and last month's rent upfront, a broker fee in some markets, and a security deposit, you may be required to cough up to four times the rent in one lump sum payment. In some states, where it's legal to charge two or more month's rent for the security deposit, that number can be even higher. When you're asked to part with such a large amount of money, it's important to know what you're paying for — and what money you can expect to get back at the end of your tenancy.
In this article, we cover everything you need to know about a security deposit. We'll answer questions like: What is a security deposit? How much is the typical security deposit? And what charges can a landlord deduct from a security deposit?
What is a security deposit?
A security deposit is a one-time payment made by a tenant to a landlord before moving into a rental property. The purpose of a security deposit is to cover any potential damage made to a rental unit throughout one's tenancy past normal wear and tear. It is the landlord's responsibility to hold the tenant's security deposit in a separate bank account — and if the unit is left in good condition by the tenant, then the full amount of the security deposit (plus any interest accrued) must be returned to the tenant by the landlord. However, if there is any damage to the unit or any unpaid rent once a tenant moves out of the unit, then the landlord may use part or all of the security deposit to cover any associated fees.
How much is the typical security deposit?
How much you'll need to pay for your security deposit will depend on your apartment, landlord, and state. A typical amount is a sum equal to one to two months' rent. Some states have real estate laws regulating the maximum amount a landlord can charge for a security deposit. For example, in Massachusetts, Rhode Island, or New York, a landlord can typically only charge up to one month's rent. Meanwhile, in Nevada, a landlord can charge up to three months rent.
Some states also have laws that differ for furnished apartments. In California, up to three month's rent can be charged as a security deposit for a furnished unit. In Delaware, there is no limit for furnished units.
Your lease should clearly outline the amount you will need to pay for a security deposit. If you are unsure whether your landlord is charging too much, check your state laws to see if there is a legal limit to the amount they can charge.
Can a landlord charge me a higher security deposit if I have a pet?
In most cases, the answer is yes. Again, the amount your landlord can charge you for a separate pet deposit or security deposit if you have a pet varies based on state laws. However, many states allow landlords to charge pet fees that include pet deposits and pet rents. Hawaii, Kansas, and Nebraska are a few examples.
It's important to note: A landlord cannot charge you extra pet fees if you have a service animal. In some states, a landlord can charge you a refundable pet deposit for an emotional support animal (ESA). You will likely need to show your landlord documentation for either a service animal or an ESA. 
What charges can a landlord deduct from a security deposit?
Wear and tear are expected in a unit after a tenant has lived there for a year. However, if a tenant damages the unit more severely, then the landlord may deduct repair fees from the security deposit.  
What counts as normal wear and tear?
Even if you treat your rental unit with the utmost respect and care, there will likely be some minor damages to some areas of the apartment by the end of the lease. These fall under "normal wear and tear," and your landlord cannot charge you for repairing them.
Examples of normal wear and tear include:
Loose doorknobs
Faded or worn carpeting
Small scuffs or scratches to walls and flooring
Sun-faded paint, or curtains and blinds
Dirty grout around kitchen or bathroom tiles 
The terms of your rental agreement will map out any changes to the apartment that are or aren't allowed, such as new paint on the walls or the hanging of artwork with screws or nails. If you have a lease term that forbids hammering nails into the wall, then nail holes won't count as normal wear and tear. 
If your landlord or property management company is trying to charge you for repairing normal wear and tear, you can try to ask them for an itemized list of all repairs that need to be made with photographic evidence. You can also try to avoid this by taking photos before you move in and after you move out of an apartment, as well as documenting the state of your apartment in writing upon moving in. This will give you leverage in any future negotiations about security deposits, as you will have proof that you did not cause any severe property damage.
What counts as property damage?
While you cannot avoid wear and tear in an apartment, you are responsible for keeping it in more or less the same condition it was in when you arrived. A landlord can charge you to repair any property damage you caused by deducting the fees from your security deposit. 
Examples of property damage include:
Holes in any walls, floors, or walls
Burns on curtains or carpets
Pet stains on walls or flooring
Ripped or missing curtains
Broken or missing windows or screens
Broken or cracked sinks, toilets, or bathtubs
Unapproved wallpaper, paint, or adhesive wall, floor, or countertop decals
Can my landlord deduct rent payments from my security deposit?
Yes. If you left an apartment with unpaid rental payments due, then your landlord can use your security deposit to cover those charges. If you break a lease agreement early, your landlord may also deduct lease-breaking fees from your security deposit — if there is a clause in the lease that explains this upfront. 
When does my landlord need to return my security deposit?
When your landlord will need to return your security deposit depends on each state's local laws. In some states, like Arkansas and Alabama, the period of time that you will need to wait to receive your security deposit is 60 days — which is on the longer end of the spectrum. In others, like Nebraska or Vermont, the legal timeframe that your landlord has to return your security deposit is just 14 days. Many states fall in between these two — requiring landlords to return a security deposit within 30 days.
If your state requires that your landlord keep your security deposit in a separate bank account, they will also owe you any interest accrued. If you dispute any deductions or request an itemized statement for any deductions, the time it takes your landlord to return your security deposit may take longer.
What are my tenants' rights with security deposits?
Many states have laws regulating how landlords manage their tenants' security deposits. For example, it is common for landlords to be required to hold security deposits in interest-bearing accounts separate from their own personal account — and ultimately to return the security deposit plus any interest accrued to you within 60 days of your move-out date. In some states, there are harsh penalties for landlords who don't follow this practice; in Massachusetts, your landlord may have to pay you up to triple the amount of the deposit if they do not place the deposit in such an account.
You will need to check your state laws to find out exactly what your tenants' rights are in terms of your deposit.  
What should I do if my landlord didn't return my security deposit?
Your course of action should your landlord fail to return your security deposit within the required timeframe will depend on your state laws and your individual situation.
My landlord is deducting repair fees from my security deposit.
If they have not returned your deposit within the amount of time dictated by your state, it may be that they are using your deposit to pay for repair costs associated with property damage. However, if that's the case, then it is in your rights to request an itemized list of damages and required repairs if they do not send one.
If you believe your landlord is charging you a repair fee for what you consider to be normal wear and tear, you can try to dispute the deductions. To build a strong case, you will want to have proof of the state of the apartment (like photos) when you moved in and when you moved out. You may also want to seek legal guidance in this scenario. 
It is a best practice to do a move-out inspection of your rental unit with your landlord after your tenancy, so there are no surprises on either end.
My landlord is not returning my security deposit, nor communicating with me about any damages or deductions.
If your landlord is ghosting you when you are asking for your security deposit back, then it may be time to reach out to your local tenants' association, which is like a union for renters who live in a certain building, area, or city. If there is a tenants' association in your area, then they will most likely be able to provide you with a template for a Request for Return of Security Deposit form. There are also samples of this type of demand letter available for free online. Complete this form and photocopy it for your records, then send it to your former landlord via certified mail.
If your landlord does not respond to this request within a seven-day period, then it is within your rights to sue them in small claims court. At this point, you will want to seek legal guidance.
What should I do if I can't afford to pay my security deposit?
If you are struggling to save up the large lump sum required to move into a new apartment, you may have some leeway when it comes to the security deposit. We outline a few options below.
Can I negotiate a security deposit payment?
Yes. There is no way to guarantee that you will be successful, but you can try to negotiate your security deposit payment with the property owner. If you cannot afford the full fee upfront, there are a few ways you can try to negotiate with your landlord:
Offer the pay the full fee, but in installments over a few months.
Talk yourself up as a tenant. If you have a stable income and a good credit score, you can try to ask for a reasonable reduction, like a security deposit that's 30% lower than the original asking price, for example.
Rent at the right time. If you are applying to an apartment that's been vacant for a while, or in a time when the market is slower (like the winter months), you'll have a better chance at convincing your landlord to lower your security deposit. 
What is a surety bond? 
A surety bond is an agreement between a customer (the tenant), a surety company, and a third party (in this case, the landlord). It allows the tenant to pay the surety company a percentage of the security deposit fee, and the company guarantees that it will reimburse the landlord should they need to make repairs or cover unpaid rent. It is like having a co-signer for the security deposit. The fee paid to the surety company is nonrefundable, even if no repairs to the unit are necessary (unlike the security deposit), and the tenant will need to reimburse the surety company for any expenses paid to the landlord.
Some landlords will let you use a surety bond in lieu of paying a full security deposit upon moving into an apartment. However, because this is a relatively new practice, many landlords will be wary and not want to accept a surety bond.
What is security deposit insurance?
Security deposit insurance is type of insurance policy in which a renter pays an insurance company a monthly premium to protect themselves against any fees incurred from property damage or any unpaid rent. When trying to move into an apartment, getting security deposit insurance can be a more affordable option as it relieves the burden of having to pay an upfront security deposit. How much you pay for your monthly premium will depend on your plan and your coverage, but it will likely range from $10 to $50 a month.
When determining whether you want to get security deposit insurance, it's important to do the math and figure out if paying your premiums will add up to more than a traditional security deposit payment. Also, it's important to note that the premiums are nonrefundable, even if there is no damage to the unit or unpaid rent (unlike a traditional security deposit).
The Bottom Line
Security deposits are a one-time fee, typically equal to the first month's rent, that you pay before you move into an apartment. They cover any potential property damage done to the unit or any outstanding rent payments upon your move-out date, and are refundable if no damage is done. If you are struggling to cover the full security deposit, you can try to negotiate the fee or see if a potential landlord would be willing to accept security deposit insurance or a surety bond instead.
We rate and sort every listing based on fair market rent.