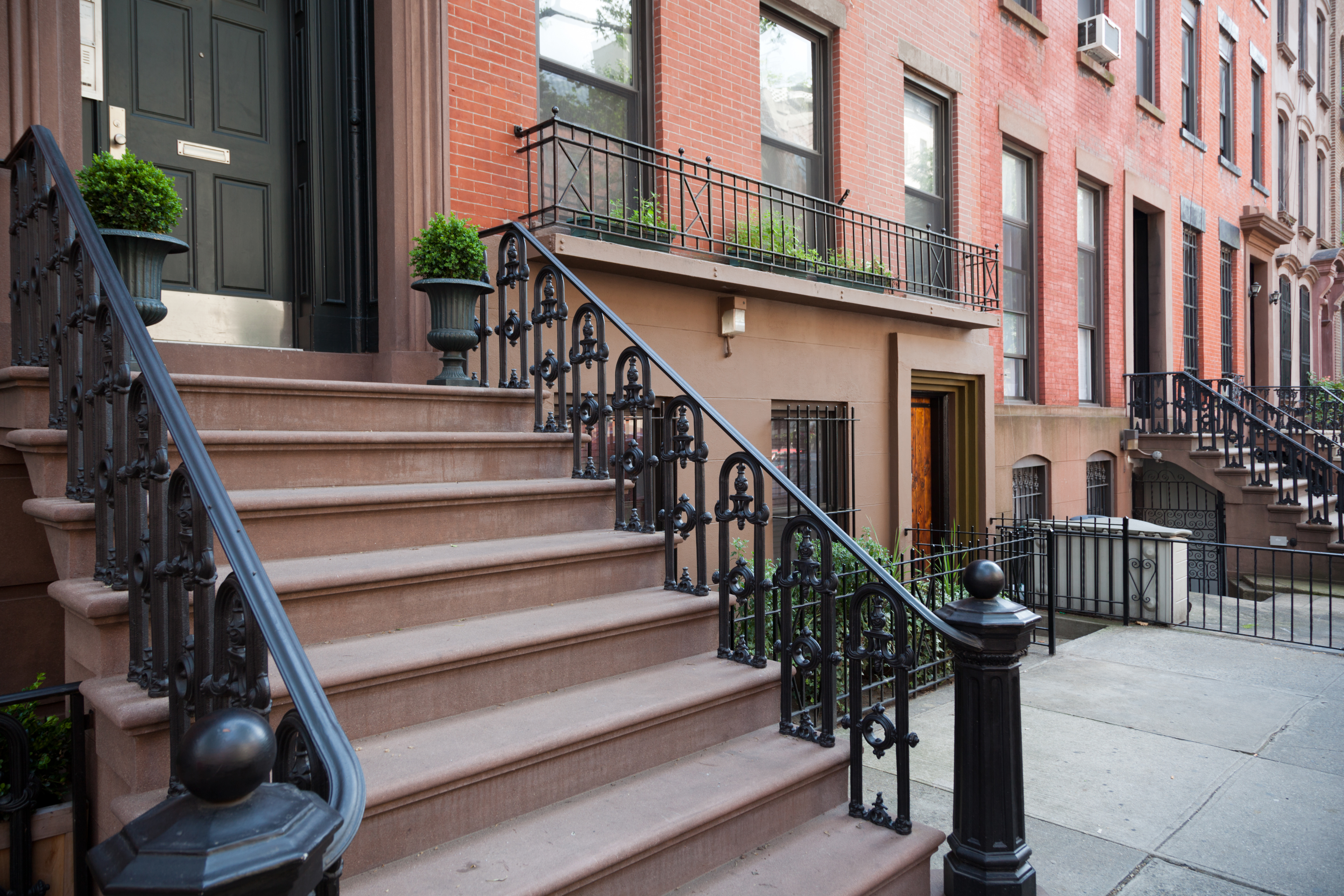 Walk-Up Apartment — The Pros, Cons & Considerations
---
If you're looking for a rental in a big city, chances are you've seen the term walk-up. If so, you may be wondering exactly what is a walk-up apartment.
Walk-up apartments are popular types of residences in cities like New York City, Boston, and Chicago. The defining characteristic of a walk-up is that it is located in an apartment complex that does not have an elevator in the building. Walk-up apartments are most commonly found in brownstones, which gained popularity among developers in the first half of the 19th century.
This guide to walk-up apartments will tell you what you need to know about these rental units and highlight the pros and cons so you can decide whether a walk-up apartment is right for you.
What is a walk-up apartment?
A walk-up apartment is a unit typically found in a big city in a complex with generally only three to four floors. What sets these units apart from their urban counterparts? Walk-ups don't have elevator access. That's right, there are no elevators in walk-up apartment buildings, so residents are tasked with walking up and down stairs all the way from street level to their homes.
Individual walk-up apartments are usually only one-floor, but they can have townhouse-style layouts with two or more floors per unit, separating the living room from the bedrooms. Still, none of these larger apartments in a walk-up building will have an elevator, even the most luxurious.
When you think about iconic NYC living, what usually comes to mind? Apartment buildings with several small flights of stairs going up, set above garden apartments located a few steps down, right? The stairs leading from the sidewalk into these complexes bring residents into walk-up apartments, often modest in terms of amenities.
Walk-ups come in all shapes and sizes; they can be studios, efficiency units, or multi-bedroom apartments. They're typically located in older buildings just three to four floors high, yet some urban walk-ups sit in more modern buildings with up to seven floors.
While you won't see many luxury apartments configured in a walk-up floorplan and certainly no high-rises, renters will find these unique units in historic buildings with vintage charm. Are you looking for a rental in Manhattan? The Upper West Side offers some of the most beautiful walk-ups in America, all set close to great amenities (what's a few flights of stairs when you're just steps away from some of the best entertainment, dining, and shopping in the country). Queens is another more affordable option in NYC where you can find plenty of charming buildings (and walk-up apartments).
Pros of Walk-Up Apartments
Below are some of the benefits of living in a walk-up apartment:
Affordability
Walk-ups typically have more affordable rent prices than other apartments in big cities due to the lack of elevators and services like a doorman who provides elevator assistance plus security for the building. Without an elevator or doorman, it's cheaper to operate an apartment building, and these savings get passed to residents. Additionally, landlords and property managers usually discount rent to encourage people to move into a building with only stair access and fewer amenities.
Lifestyle
Walk-up apartments are usually charming residences in smaller buildings close to neighborhood cafes, boutiques, and bars. So, if you like to support local mom-and-pop businesses, you may love a walk-up. Additionally, walking up and down all the stairs burns calories, which may appeal to active types. If you're a homebody who likes to stay in, you may not even be bothered by the extra stairs.
Neighbors
Many walk-ups sit in complexes with as few as two apartments, and most have no more than 40 neighbors. With fewer tenants than you'll find in a high-rise, you'll likely get to know the people around you better. This is good for anyone who likes socializing or keeping an eye on who's coming and going nearby.
Architecture
Love old-school architecture? You may adore a walk-up apartment thanks to its oversized bay windows and original crown moldings. We've seen some stunning walk-up apartments with vintage black and white checked floors in the entry, bathrooms, and kitchen.
Cons of Walk-Up Apartments
What's the downside of a walk-up apartment? Below are some reasons you might want to think twice about this type of rental:
Lifestyle
Because walk-ups lack many of the amenities of a luxury high-rise, some renters find that they're not conducive to modern living. For example, there won't be a doorman to bring you packages, and your food delivery person might make you walk down to retrieve your dinner. If you ride a bike, you'll have to haul it up several flights of stairs. Also, walk-ups can be energy-draining if you work long days and want to take an easy elevator ride up to your apartment.
Accessibility
While climbing a few flights of stairs is a problem for many renters, those with mobility issues may want to think hard about living in a walk-up. Also, consider how your guests will feel when they realize they'll need to climb all those stairs every time they want to see you. Still think a walk-up sounds great? Well, remember that even though you'll be close to markets and shops, you'll need to lug your goods up several stairs to bring them home.
Amenities and Utilities
Since walk-up apartments are generally located in older buildings, they might have outdated amenities and utilities. When you're apartment hunting, check to see that everything meets your standards. Is the air conditioning adequate? Will the water pressure and temperature be sufficient?
Pets
Are you living with a furry friend? Aging (and lazy) animal companions may not want to walk up multiple flights of stairs to get home. So, if you don't want to carry your buddy up and down for walks every day, you might not want to live in a walk-up apartment. Also, consider all the potty trips your pup will have to make before you commit to a walk-up.
Moving
Moving in and out of a walk-up can be challenging. You or your moving company will likely take more time and energy to settle everything than in an apartment with an elevator, so consider the level of effort and moving costs involved in this type of rental. Also, remember that you'll have to be careful not to scratch walls and floors when maneuvering large furniture on staircases.
The Bottom Line
Walk-up apartments can be great for renters focusing on affordability, exercise, community with neighbors, and charming architecture. They're perfect for folks who like to be minutes from their favorite local pizza joint or bar. But, cyclists, pet owners, older adults, and people with a disability for whom accessibility is important may want to think twice before choosing to live in a walk-up apartment.
We rate and sort every listing based on fair market rent.