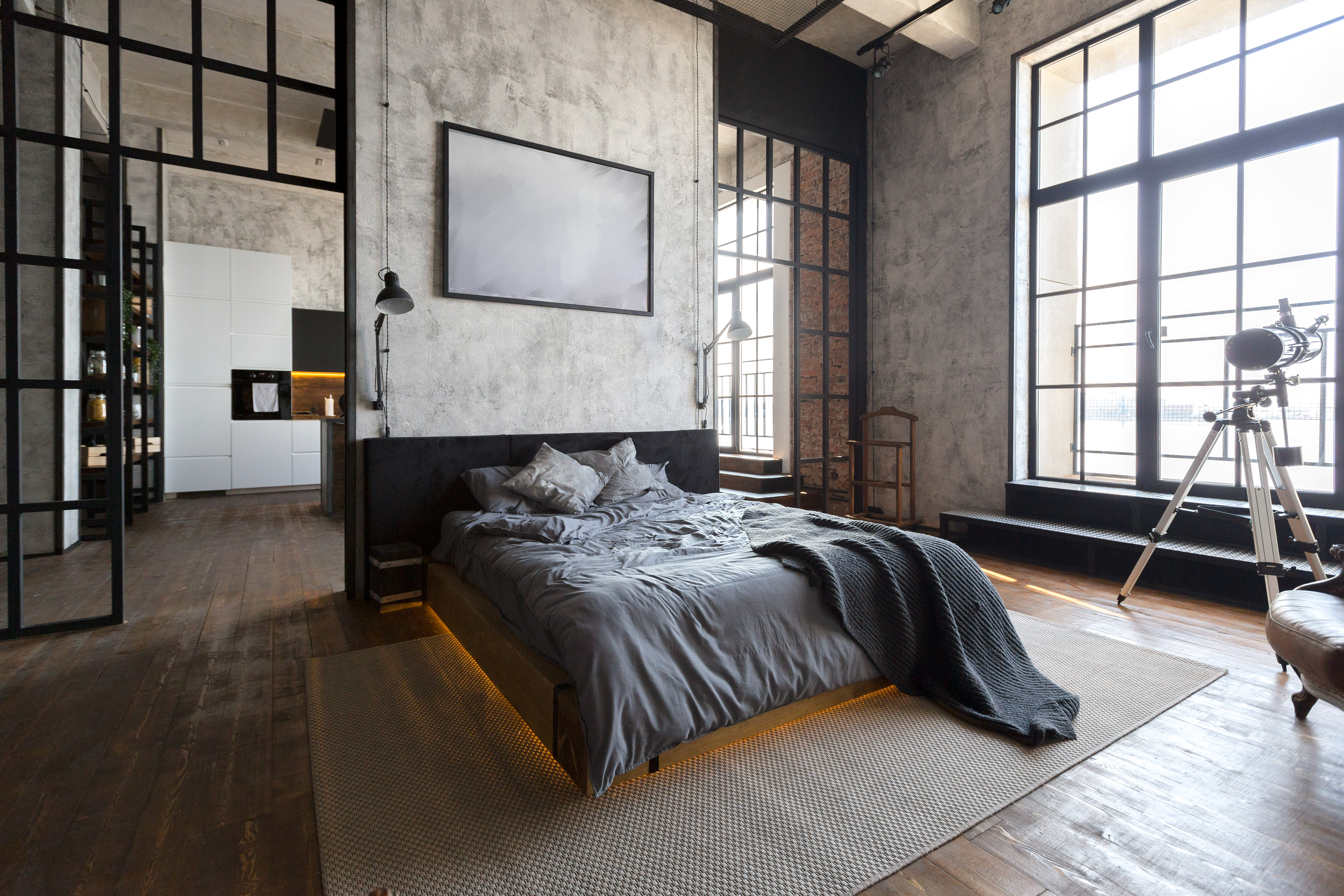 What is a Loft? Definition of a Loft Apartment
JG
Sep 28, 2021
Updated on Nov 28, 2023
---
You may have seen a loft apartment as the home of your favorite TV characters, like the Humphrey family in Gossip Girl or Jess and her roommates on New Girl, but do you know where the name comes from? How about what characteristics actually make an apartment be classified as a loft?
In this article, we tell you everything you need to know about lofts, from their history, to their characteristics, to their pros and cons for renters.
What is a loft?
In the most traditional sense, a loft is an apartment found in a former industrial building, which has been converted for residential use. A loft retains certain characteristics from its past life, such as high ceilings, large windows, open floor plans, cement floors, as well as exposed pipes, beams, and brick walls.
Historically, loft spaces originated in Paris during the 19th century as artists' studios when oversized paintings required high ceilings. Fast forward to the early 20th century, and loft living found its way to the United States, primarily in warehouses near Boston, MA and New York, NY ports. By the 1980s, loft apartments could be found throughout New York City, including downtown Manhattan, and especially in Brooklyn, SoHo, and Tribeca. From there, these types of apartments became a hallmark of TV and movie characters living in NYC, thereby cementing the popularity of loft living among audiences everywhere.
Today, in addition to traditional loft apartments converted from former industrial buildings, newly constructed loft buildings incorporating the design elements of industrial spaces are being built to meet the demand for this popular apartment style. And, herein lies the difference between a hard loft and a soft loft.
What is the difference between a hard loft and a soft loft?
Hard lofts are found in former industrial buildings and warehouses that have been turned into residential buildings, characterized by hard materials such as brick, concrete, and the like.
Soft lofts are designed to look like hard lofts but are found in new buildings rather than converted industrial ones. Soft lofts boast the characteristics of a loft, sometimes right down to hard materials. However, one thing sets them apart: They are newly built.
Four Characteristics of a Loft
Whether you're renting a traditional loft (also known as a hard loft) or a newly constructed soft loft, here are the four key characteristics of a loft apartment.
Loft apartments are known for their open floor plans with limited interior walls. With one large living area, lofts do not feature separate spaces for a bedroom or living room. However, some lofts use frosted or printed glass partitions to create division without limiting light.
Loft apartments go hand in hand with high ceilings. And with high ceilings comes the ability to accommodate large windows. Thanks to those windows, loft apartments contain a significant amount of natural light.
Many loft apartments contain exposed brick walls; if you see exposed brick, it could be a carryover from a building's industrial past. However, exposed brick is not a requirement for a unit to be considered a loft. To make matters more confusing, brick and other hard materials may just as likely be found in a newly constructed loft designed to look more industrial.
For renters who favor an industrial-meets-modern aesthetic, loft apartments are ideal. Contemporary design pairs well with the industrial feel of exposed brick, beams, pipes, and ductwork, as well as cement flooring.
Is a loft considered a studio apartment?
While a studio apartment and loft apartment both feature an open floor plan, no internal walls, and less built-in storage space than a traditional apartment, there are some notable differences:
Lofts are typically larger than studios, so you'll get more square feet — despite having an apartment that is more or less one large room (like a studio).
Lofts are most commonly found in urban areas since they are former industrial buildings, while studios can be found anywhere.
While lofts are characterized by high ceilings, this is not necessarily a characteristic of a studio apartment. Studios can have any type of ceiling.
Due to the larger size of lofts compared to studios, the cost of heating, cooling, and electricity in lofts tends to be more expensive.
What is the difference between a loft space and a loft apartment?
While loft space and loft apartment are often used interchangeably in listings posted by real estate agents, there are differences between the two. For one, a loft space doesn't have the industrial look or feel necessary for a unit to be considered a loft apartment.
A loft space (also referred to as a loft area) features an open level you can find in an apartment or home above its main living area. You can access a loft space using stairs or a ladder, meaning the space overlooks the mezzanine level. Residents typically use a loft space for sleeping, an extra living area, or a work-from-home office.
You can find a loft space in any style of apartment, no matter its type or size, but the presence of a loft space is not synonymous with a loft apartment.
Pros and Cons of Loft Living
If you are living in a city like New York, where they are common, you may be considering moving into a loft. Whether or not you take the plunge will depend on your specific circumstances, as there are pros and cons of living in a loft.
Three Pros of Living in a Loft Apartment
Loft apartments feature generous square footage that feels even more expansive thanks to high ceilings and large windows with natural light.
The open floor plans that characterize lofts offer flexibility when it comes to furniture placement; because they are typically wide open spaces, you can determine where to make your "bedroom" area and where to place your "living" area. You can even easily set aside space for an office area or reading nook. If your loft has a partition, you can get the benefits of open concept living while still maintaining a level of privacy.
3. Modern and Unique Aesthetic
Unlike a traditional apartment, a loft apartment is guaranteed to have a unique look and feel with its industrial materials, which will add personality and visual interest. Plus, the simple, clean lines, high ceilings, and natural light give lofts a sought-after contemporary feel.
Four Cons of Living in a Loft Apartment
1. Lack of Separation and Privacy
Because the living spaces feature less distinct areas, they're not optimal for those who prefer separate spaces for eating, a living room, sleeping, and working from home. This can also make it difficult to live with a roommate, since loft apartments lack the privacy afforded by an apartment with multiple rooms.
Because loft living means not as many closets, there's a distinct lack of storage that can translate into the need to buy more armoires, dressers, shelves, and other storage essentials that would be more readily available in a traditional apartment.
In traditional loft apartments found in older buildings, the insulation might not be all that great, contributing to high heating and cooling costs. Plus, higher ceilings and more square footage can also result in higher utility bills. That being said, just because a rental property is a loft does not mean that a landlord can allow substandard living conditions. In fact, in New York, the Loft Law of 1982 requires that all industrial spaces that have gone through a loft conversion are brought up to residential code for tenants.
Because they were not initially created as living spaces, hard loft apartments might lack the amenities commonly found in newer apartment complexes (including soft loft buildings). So, if you are looking into renting a hard loft, don't expect to see common areas and rooms, fitness rooms, storage areas, and other communal spaces in the building.
The Bottom Line
Lofts are a highly sought after and unique type of apartment, made even more popular by their inclusion in TV shows. However, they aren't for everyone due to their lack of privacy and amenities. If you are interested in renting a loft, your best bet is to start your rental search in urban industrial areas that have been converted for residential use. You may also find newly constructed loft apartments in other parts of cities. While lofts are popular among many renters, availability can be limited when searching beyond the city limits.
We rate and sort every listing based on fair market rent.