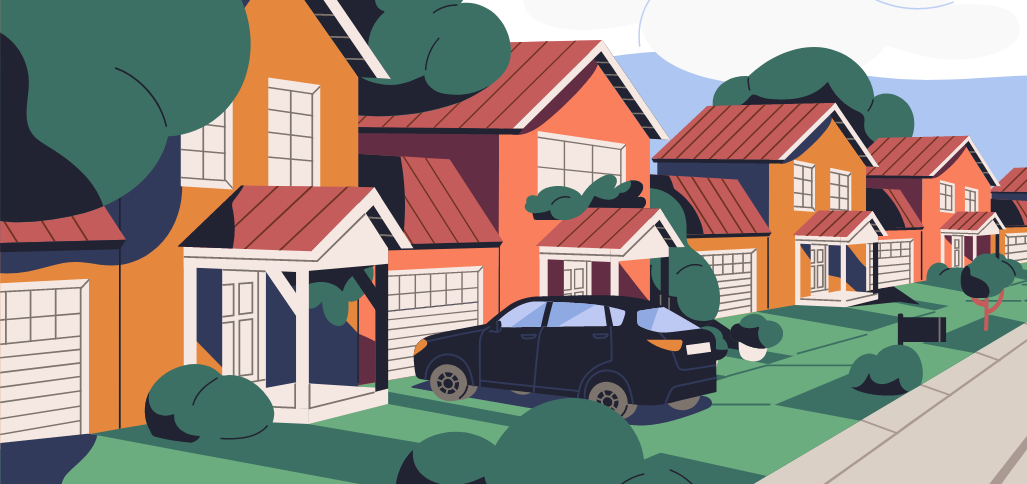 ---
If you're apartment hunting in a more suburban area, with mostly single- or multi-family homes rather than larger apartment buildings, you may come across a few property owners renting out mother-in-law apartments (also known as "in-law apartments").
In this article, we cover what an in-law apartment is, what the legal requirements are around renting an in-law apartment, and the pros and the cons of renting an in-law unit from a tenant's perspective.
What is an in-law apartment?
What differentiates in-law apartments from most other apartments is that they are additions built onto existing homes — with their own entrance, bathroom, and kitchen — and they are often smaller than a typical rental unit. An in-law apartment may also be a small structure separate from, but on the same property as, the main home — like a guest house. 
The name is self-explanatory when it comes to explaining their purpose; typically, in-law apartments are built as a private living space to house one's aging parents or relatives on the same property. However, many property owners choose to use the extra space as a home office or guest quarters, to house a live-in nanny or adult children, or to rent out to tenants for extra income.
In-law apartments can also be called "mother-in-law suites," "secondary suites," or "accessory dwelling units" (ADUs) in the real estate world.
What makes an in-law apartment legal? 
For a space to be considered an in-law apartment, it needs to have a separate entrance, kitchen, bathroom, and living space. In-law units also have the same safety requirements as regular apartments — meaning, they will need to be outfitted with smoke and carbon monoxide detectors.
Different local governments will have different zoning laws around ADUs. Typically, a community will dictate how large an in-law apartment can be (they are often less than 900 square feet), how many bedrooms it can have, whether it can have a parking space, the number of occupants it can have, and the kind of occupants. Many local laws dictate that only a family member can inhabit an in-law apartment and some will stipulate that an in-law apartment must be built as an addition to the main house rather than as a separate guest house.
Homeowners planning to construct in-law apartments on their properties will also need to have special permits and should work with a contractor familiar with local zoning laws and building codes around ADUs. For homeowners who live in a community with an HOA, there may be additional regulations.
What are the pros and cons of renting an in-law apartment?
Because in-law apartments are slightly different from the typical rental property, they may not be the right fit for all lifestyles. Below, we outline the benefits and the drawbacks.
Pros
If the following lifestyle factors appeal to you, then you may want to consider renting an in-law apartment.
If an inattentive landlord is one of your concerns about renting, then an in-law apartment may present a solution to that problem. With this type of unit, your landlord will be your neighbor, which should make getting a hold of them easier than if they were located elsewhere. 
Because in-law apartments are typically on the smaller side and are often rented by independent property owners rather than landlords of multiple properties, their rent prices will likely be on the lower end of the spectrum. If you are looking for a cheap apartment, an in-law unit may be a good option.
It can be difficult to find a rental in a more suburban area, especially if you are looking for an apartment rather than a home. If you'd like to live in a suburban area with more outside space, say, than a city, then an in-law apartment would be a great fit.
Cons
What some may consider pros of in-law apartments, others may consider cons. If the following doesn't appeal to you, then you are likely better off finding a different living space.
Living close to a landlord can be a convenience for some, but a nuisance for others. Being close to a landlord can bring its own set of challenges if you are a renter who prefers a lot of privacy.
Similar to the above point, if privacy is one of your priorities, then you may not enjoy the fact that in-law apartments come with a lot of shared spaces and living areas. Remember: They are home additions, and require that landlords and tenants live on the same property, so you will likely have a shared backyard space and be running into each other a lot.
As mentioned in this article, in-law apartments are on the smaller side. While less square footage can allow for cheaper rent, it may be limiting if you want to live with roommates or a partner, have frequent company, or need more storage space. If you are planning on cooking frequently, they may also not be the right fit for you, as they will likely only have a small kitchen or kitchenette.
The Bottom Line
In-law apartments, also known as accessory dwelling units, present a unique living situation, since they require a landlord and tenant to live on the same property (and often in the same building). While they do have aspects of a typical apartment — like their own entrance, kitchen, and bathroom — they are also typically smaller and come with less privacy for tenants. Consider our pros and cons of living on your landlord's property before renting an in-law apartment.
We rate and sort every listing based on fair market rent.