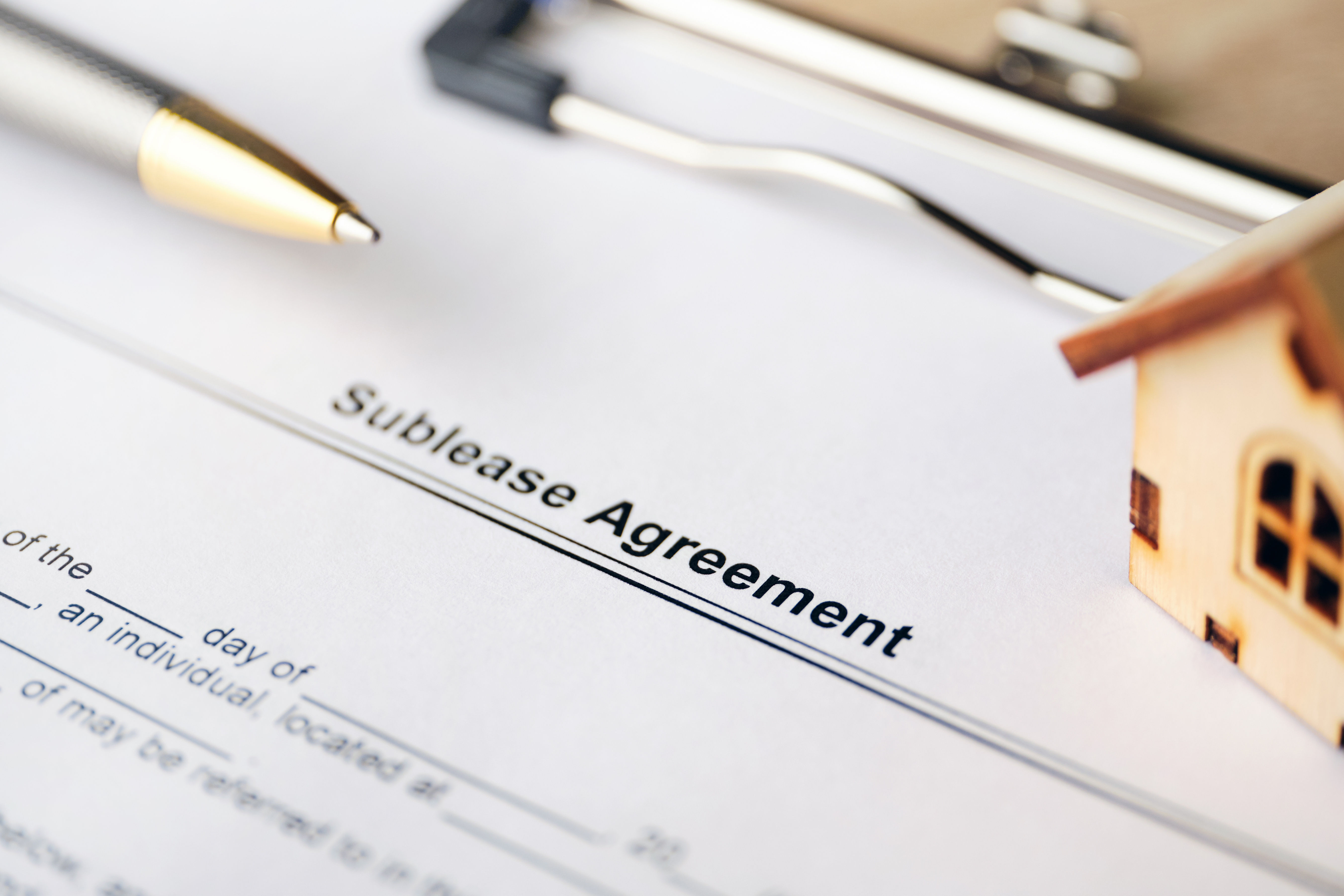 ---
There are many reasons renters may want to sublet (aka sublease) their apartment. Whether you've landed a new job requiring you to relocate or you're struggling to make ends meet, subletting can help you pay rent. However, before you decide to sublet your apartment, there's a lot to consider, including everything from understanding local and state sublease laws to confirming that the terms of your original lease allow it. That's right, not all rental agreements permit subletting. More on that later. But, first things first, let's define subleasing.
What is subletting / subleasing?
Used interchangeably and meaning the same thing, subletting / subleasing is when a tenant named on a rental agreement rents a room or entire apartment to another person during the original lease period.
Renters can sublet their spaces short-term, such as for a month, or they can sublet for nearly the whole length of their lease. When subletting an apartment, renters may find a new tenant to take over the entire square footage of the rental or just one room in the unit.
A sublease doesn't transfer the original lease or its responsibilities to a new tenant. It merely allows someone else to live on the property. The original tenant on the rental agreement (the sublessor) is still the contracting party, and the landlord may continue to hold this tenant to all terms of the lease.
How do I sublet my apartment?
Check your lease agreement to see if it contains language about subletting. If it doesn't, talk with your landlord about drawing up an addendum to a lease agreement to allow for a sublease. Because the tenant and subtenant relationship is removed from the original lease, subletting is not advised without landlord approval. When you sublet an apartment to a subtenant (sublessee), that new renter will want permission from the landlord to use all spaces noted on the original lease (private and common) as the original contracting tenant would. Remember that subletting may not get the green light from a property manager or landlord.
Tenants who need to convince a landlord to allow a subtenant may want to conduct interviews with a new renter first and perform a background check on viable candidates. There are also services available that can help renters run credit reports and other verifications on subtenants. Being able to vouch for a sublessee could help persuade a landlord to allow subletting. Renters with original lease agreements that permit subtenants may not have to convince a landlord of a new tenant's suitability. However, you should still do your due diligence and request a credit and background check as well as references for any potential subtenant. After all, your name remains on the original lease.
Keep in mind that some landlords will charge the original tenant a fee to sublease. However, many state and local laws limit or prohibit landlord-imposed fees for subleasing.
Tenants who want to sublet their apartments would be wise to draw up a subletting agreement for the new tenant to sign. This helps ensure the sublessee will take care of the property and pay all rents and fees to the sublessor, who is still bound with the landlord in the original rental contract. Sublease agreements can also include instructions for mailing rent payments.
If you're considering subletting your apartment, think about whether or not you want to leave any furniture or personal belongings for the new tenant to use. If so, make sure you note these items in your sublease agreement. Sublessors may want to ask for a security deposit from subtenants. However, some state and local laws restrict security deposits, hence the need to do your research before subleasing.
If your landlord approves subletting and you've found someone perfect to sign a sublease agreement, having the new tenant move in is the next step. Many renters require subtenants to complete a rental inspection checklist upon move-in to document the property's condition. These checklists sometimes have space to document the property's move-out condition too. When added as addendums to sublease agreements, rental inspection checklists can help a sublessor hold a sublessee liable for damages caused during the sublet period.
4 Questions About Subletting
Is subletting legal?
Subleasing's legality depends on your state and local laws, as well as the terms of your lease agreement. When considering subletting your apartment, you can learn a lot from a quick internet search, but consulting a lawyer and your property manager is advised.

Is subleasing safe?
Financially, subletting comes with some risks. If your subletter decides not to pay rent or damages your apartment, you're legally bound by the landlord to resolve these problems. That's why you need to do your homework on any potential sublessee before entrusting your place to them.

Who pays the utilities?
You can negotiate utilities with your subtenant, but remember that some original lease agreements may contain language on how the landlord collects utilities and which services are available. Check with your landlord for guidance before you write utilities into your sublease agreement.

Does my renters insurance cover subtenants?
Renters who want to sublet their apartment should check with their insurance companies to see if the policy covers subtenants. If not, sublessees may need to obtain their own insurance to comply with the original lease agreement terms.
The Bottom Line
Whether you call it subletting or subleasing, the meaning is one and the same, and it may very well be a viable option for you. But, it also may not be within your legal rights. Before subletting your place, you'll need to confirm doing so is on the up and up by consulting state and local subleasing laws, reviewing your rental agreement, checking with your landlord, verifying a subletter's references, and drawing up a subleasing agreement.
We rate and sort every listing based on fair market rent.