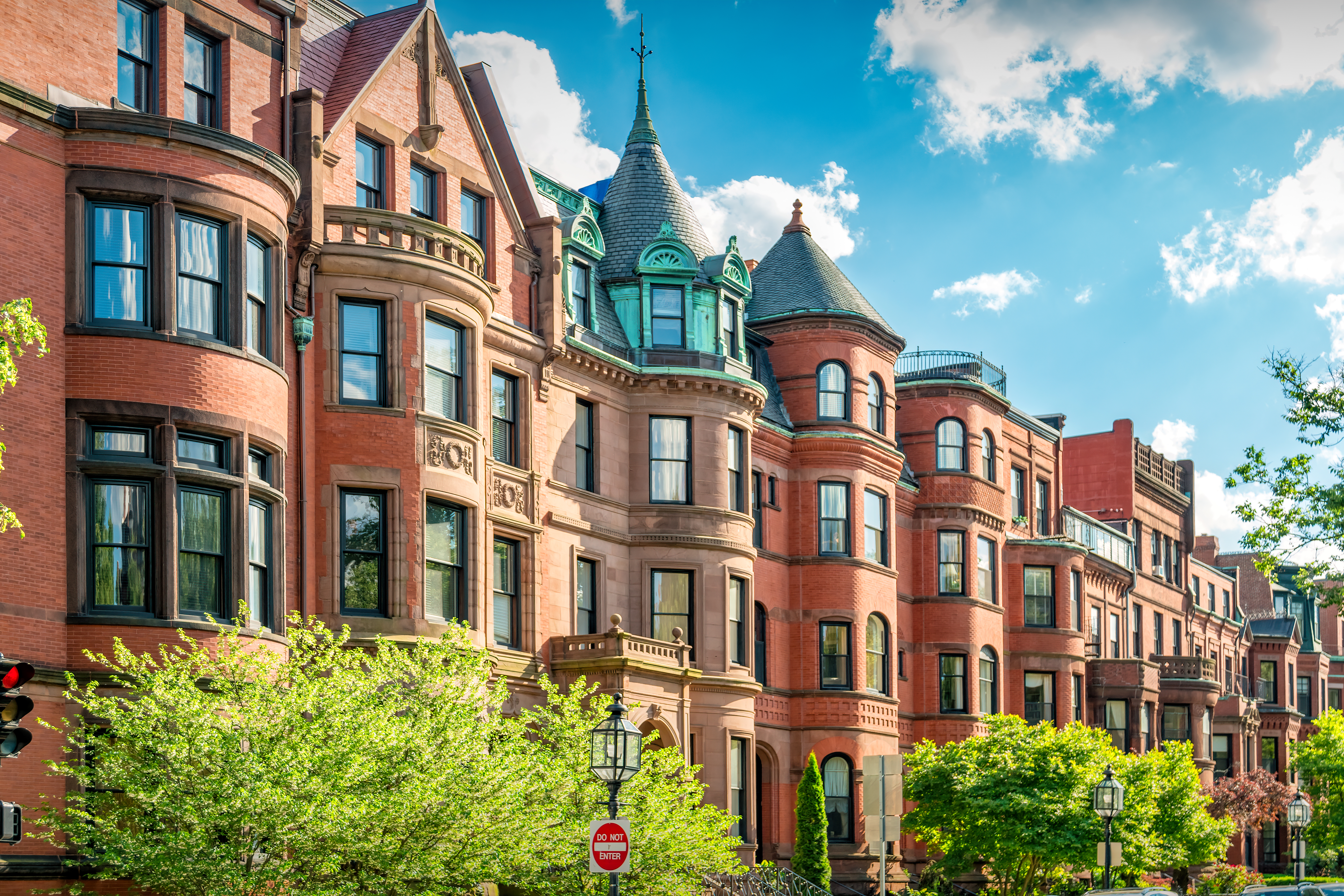 ---
If you live in New York City, Boston, Chicago, or Philadelphia, or another historic East Coast city, you probably have walked past a row of brownstones. These historic buildings are known for their stone stoops, ornate window boxes and details, and faded brown, red, or tan brick facades. They're also known for their hefty price tags.
Because supply of brownstones is limited, they are a hot commodity in the real estate world — and as a result, tend to be some of the most expensive buildings in the cities where they are located. However, if you've always dreamed of living out your big city fantasy in a brownstone, worry not; as a renter, a brownstone unit can be more attainable.
In this article, we cover everything you need to know about brownstones as a renter — from the official definition to the history to the pros and cons and more.
What is a brownstone?
What distinguishes a brownstone from other buildings is its façade, which is, quite literally, covered with brown sandstone (also known as brownstone). The color of a real brownstone will be brown, reddish-brown, or tan. The rest of the brownstone is built of brick. Other features of a brownstone are its stone stoop, which elevates the first floor (also known as the parlor level) above street-level, and the ornate details around the windows and doors. Usually, brownstones will also have a short staircase leading down to the garden level, which is slightly below street level. A brownstone building will always have at least two floors, but usually three or four.
What is the difference between a brownstone and a townhouse
The terms brownstone or townhouse (or townhome) are sometimes used interchangeably, but they are two distinct types of buildings. Most importantly, a townhouse can be built out of any material. Meanwhile, to be considered a brownstone, a building will need to have the brown sandstone façade. Besides the color and building material, townhouses and brownstones look very similar, although townhouses can be newly constructed while brownstones are historic. A brownstone may be a townhouse, but a townhouse isn't necessarily a brownstone.
What is the difference between a brownstone and a rowhouse?
Similar to a townhouse, a rowhouse is another term that may be confused with a brownstone but has a small distinction. A rowhouse has some similar features to a brownstone (like size), but the term specifically refers to a building that is part of an identical row of houses. There is no space between any of the houses in this row. Sometimes, brownstones will be set up in a similar way, in which all of the houses are connected with no space. A brownstone may be a rowhouse, but a rowhouse isn't necessarily a brownstone.
What is the history of brownstones?
Brownstone buildings became popular during the early 19th century, due to the relatively inexpensive cost of brownstone. The natural look eventually gained popularity and became more valuable, but originally, brownstones were considered middle-class housing.
Initially, brownstones were single-family homes (although now they usually are broken up into a few apartments, making them multi-family homes). Their grand stoops were designed to separate the parlor floor (the term for the first or ground floor of a brownstone, which used to be a parlor or foyer for welcoming guests) from the street level, back when horse-drawn carriages (and horse waste) were all over the cities.
During this time, there were four different types of American brownstone: Apostle Island brownstone (originating in Wisconsin), Hummelstown brownstone (originating in Pennsylvania), Portland brownstone (originating in Connecticut), and New Jersey brownstone (originating in New Jersey.) These four kinds of brownstone came from quarries in these various areas, and were shipped on barges to various East Coast cities like Boston or NYC.
As these brownstone quarries have shut down over time and stopped producing brown sandstone, brownstone buildings have become more scarce — leading to their skyrocketing prices. While there are new buildings constructed that mimic the look of brownstones, true brownstone houses have not been constructed in decades — so they are considered historic (and valuable) homes.
Where can I find brownstones?
Brownstones were mainly built on the East Coast, so large East Coast cities are where you should look if you're interested in finding a brownstone apartment
What are the pros and cons of renting an apartment in a brownstone?
As we've mentioned, brownstones are considered one of the hottest commodities in real estate. However, there are pros and cons to living in a brownstone apartment.
The Pros
The positive aspects of living in a brownstone apartment include:
Historic architecture and ornate detail work, often including original hardwood or parquet floors, fireplaces, and high ceilings
Living spaces with more square feet, as brownstone apartments tend to be more spacious, and have open floor plans and large windows
A surrounding tight-knit community, as apartments and homes are very close together and residents tend to interact more often than in other neighborhoods
A prime location, since brownstones are usually on tree-lined city streets in walkable areas
Outdoor space, whether it's on the front stoop or behind the building in a small patio area
The Cons
Some of the downsides of living in a brownstone home can include:
A lot of maintenance is needed, as these historic buildings require a lot of upkeep, are prone to water damage, and are less likely to have had recent renovations
Higher price points due to how limited and desirable these units are
Less modern amenities than newer buildings, especially when it comes to air conditioning or laundry
Difficulty moving furniture in or out, as brownstone apartments are almost exclusively walk-ups with no elevators
The Bottom Line
Brownstones — which are historic brick buildings in mostly east coast cities with brown sandstone façades — are some of the most desirable real estate in the U.S. This is mostly due to their scarcity, but they are also valuable for their ornate and historic architectural details, spacious living areas, and prime locations. That means they also come with higher price points and — since they are older buildings — less modern amenities.
We rate and sort every listing based on fair market rent.