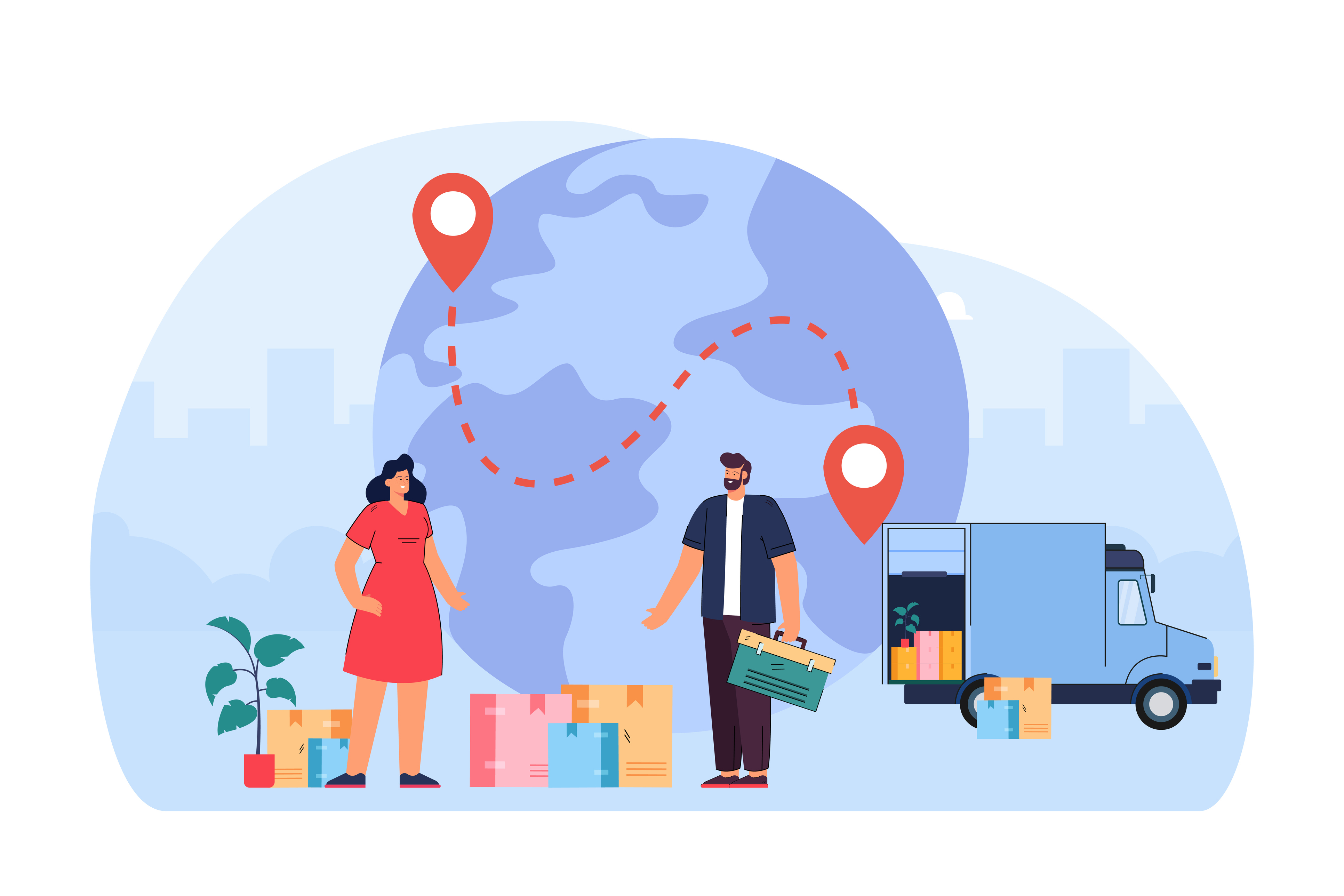 ---
An international move is daunting — especially if it is your first time living away from home. Not only do you need to worry about all the usual responsibilities associated with moving — like finding the right apartment and packing and transporting all of your stuff — but you also have added tasks, like making sure you have sufficient proof of income or references. Plus, there may be different requirements depending on who your new landlord is or which US city you are planning on moving to.
Read on for our step-by-step guide on apartment hunting in the USA as an international renter, based on our expertise working with international renters.
1. Get your documents in order.
Renting an apartment can be competitive depending on what market you are looking at moving to, so it's best to have your documents prepared before you even start looking at apartment listings. That way, if you find an apartment you like, you can apply quickly and easily, without creating a lot of hassle for yourself or your potential landlord.
What Documents You'll Need to Rent in the US
When US citizens submit rental applications, they are typically asked to provide a photo ID and Social Security Number, proof of income, and a credit report, as well as an employment and rental history. As an international renter, you may not have a Social Security Number or sufficient credit report, but there are some other options for documentation that you can provide:
Your passport. A photo ID is a standard requirement for any renter in the US, and if you do not have a state-issued ID or driver's license from the US, your passport will be your best option.
Proof of immigration status. Potential landlords will want to know that you will legally be allowed to stay in the country for the duration of your lease. Be prepared to show them immigration paperwork like a green card or an employment authorization document.
Job offer letter or university acceptance letter. US renters will typically be asked to provide landlords with pay stubs, which serve as proof of employment and income. However, if you are moving to the US to start a job and you haven't been paid yet, an offer letter from your supervisor should suffice. If you are an international student and are not planning on having a job while you study, then provide potential landlords with proof that you will be attending school.
Bank statements. Potential landlords will want to see that you have enough funds to cover the rent. So, with your application, you will most likely be asked to include bank statements that prove you have a sufficient regular income.
Rental history. If you have rented before, you will be asked to write down the addresses of the apartments where you lived previously, the period of time that you lived there, and the contact information for the landlord. If this will be your first apartment and you do not have a rental history, be prepared to explain that to potential landlords.
Resume. In addition to bank statements and a job offer letter, a resume is a great way to show a new landlord that you have a history of steady employment and that you can be trusted to pay for your new apartment.
2. Contact your references and former landlords.
Providing contact information for people who can speak to your character as well as former landlords or property managers who have rented to you is another standard part of the rental process. Typically, you will need to provide at least two references.
It is a best practice to let your references and former landlords know that they may be contacted and asked a few questions about you by a potential new landlord, so reach out early and get their consent.
If your former landlords and references are from overseas and there will be a language barrier or significant time difference, figure out ways to work around this and make the process easier for the landlord. For example, if there is a time difference, you can provide both a phone number and an email, but let your potential landlord know that an email conversation may be best for both parties.
Potential references may include:
Previous landlords or property managers. You always want to have at least one on your list of references.
Former or current employers or coworkers. They can directly speak to your work ethic and verify your income, but can also comment on how you are a responsible, helpful, and kind person at work.
Family friends, mentors, and community leaders. A personal reference who can speak to your character is a good option if you do not have employers, coworkers, or former landlords to turn to.
3. If necessary, find a US-based guarantor or cosigner.
Because you may not have a sufficient credit history, a landlord may be less willing to trust that you are qualified to rent their property. However, one way to help ensure that you will be a reliable tenant is by getting a guarantor or cosigner, who resides in America and will sign your lease with you. By doing so, they guarantee that they will cover any rental fees that you are unable to pay, on board. The most qualified guarantors or cosigners will have strong US credit scores and incomes that are at least three times the rent of your potential apartment.
A close friend or family member who lives in the US is a good option, although there are also services that will sign on to be your guarantor in exchange for a fee.
4. Start searching for apartments.
Once you've gotten all your paperwork in order, it's time to start figuring out where you may want to live! An online platform like ApartmentAdvisor is a great place to start your apartment search. Start off by using the smart search and filters on our site to find apartments that have everything you need. We analyze every listing on our site, then give each apartment a deal rating to help you easily compare your options. Even better, in Boston (and coming soon to other markets), our advisors are standing by to help you with everything from personalized recommendations to scheduling your tours to helping you apply.
If you are looking to live in a short-term rental or need roommates, try looking on sites that specialize in these services. AirBnB and Furnished Finder are a few that focus on shorter-term rentals, while Facebook Marketplace, Reddit housing groups, and Craigslist are options for finding roommates. However, beware of rental scams when using these platforms.
We advise that you never make any lease payments before a lease has been signed by all parties and never pay in cash or via wire transfer. Instead, opt for a personal check, certified check, cashier's check, credit card, electronic payment from your bank, or through an online rental payment platform, all of which leave a paper trail. Read our full guide on avoiding rental scams here.
5. Tour your favorite apartments, virtually or in person.
If you are able to visit the apartments you're interested in, then schedule tours to see them in person. While you're walking through the apartment, start checking the place for chipped or peeling paint, which can be an indicator that the landlord has neglected the unit, or water stains on the ceiling, which can be a sign of flooding issues. You'll also want to test the faucets to check the water pressure, and make sure all of the appliances work. If you are unable to visit in person, try to find someone you trust who can tour apartments for you on your behalf. If none of this is possible, ask a realtor or broker to show you a video tour of the apartment. This is another service ApartmentAdvisor is currently able to provide in Boston (and coming soon to other markets): We'll not only take a video of the place you're interested in, but we'll also make sure that everything in the apartment is in working order on your behalf.
6. Submit your application.
When you find an apartment you like that is within your budget, it's time to actually start the rental application process. This is when all the documents that you prepared earlier will come in handy, as you will need to include them all with your application. If you want to increase your chances of getting approved, consider including a cover letter as well that explains why you would be the ideal tenant for this apartment. If you get denied, it's not the end of the world: You can ask the landlord or broker that you worked with why you were denied, use that information to improve your application, and then apply to your second- or third-choice apartment.
7. Sign the lease agreement and make all required upfront payments.
At this point, you're almost at the finish line. Once you've been approved for the apartment of your choice, it's time for you and your landlord to sign the lease (as well as your cosigner, if you have one). Make sure you read the terms of the lease carefully before signing, so that you know what you are getting into; the lease will stipulate how much you will pay in rent and when, what your landlord's right to enter your apartment is, how maintenance and repairs will be handled, and more.
Upon signing the lease, you will also typically be asked to pay some combination of the first and last month's rent and a security deposit equal to one month's rent to the landlord — all upfront. If you worked with a broker or real estate agent, you may also be asked to pay them a broker fee, which is also equal to one month's rent. This is common in Boston and New York City. That means that you may need to have up to four months' worth of rent on hand to pay upfront.
8. Move in!
Congratulations on your new apartment! It's time to move in. Whether you are hiring movers or handling move-in yourself, now is the time to get settled in your new place. There are just a few steps you will want to take once you move in:
Call the utility companies. You don't want to be left without electricity or Internet. If you are unsure which companies to call, ask your landlord or property manager.
Document your apartment's condition. Go through your apartment and write down any signs of damage or wear and tear. Take photos as well. This way, you won't be charged for this damage once you move out.
Do a deep clean of your apartment. Before unpacking and arranging your furniture, you'll want to clean all the floors and surfaces to the best of your ability.
The Bottom Line
Finding an apartment rental as an international renter will definitely be trickier than if you were an American renter, unfortunately. But with a little extra effort, you should be able to find your perfect place. Your main hurdles will be verifying your ability to pay rent without a credit score and providing a trustworthy rental history. If you are having trouble, refer to the article above, where we outline how to meet all of the requirements of US landlords as an international renter.
We rate and sort every listing based on fair market rent.